The Christmas Tree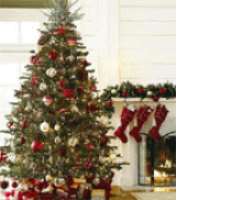 originated in Germany in the 16th century. It was common for the people then to decorate fir trees, both inside and out, with roses, apples, and colored paper.
It is believed that Martin Luther, the Protestant reformer, was the first to light a Christmas tree with candles.
While coming home one dark winter's night near Christmas, he was struck with the beauty of the starlight shining through the branches of a small fir tree outside his home. He duplicated the starlight by using candles attached to the branches of his indoor Christmas tree.
The Christmas tree was not widely used in Britain until the 19th century. It was brought to America by the Pennsylvania Germans in the 1820's.
The lights represent Christ as being the 'Light of the World.' Lights also represent stars. Candles were first used as lights on the Christmas tree. Share Your Thoughts on this article Name Email Location Comments Graphic Ghana may edit your comments and not all comments will be published