Lynette Yiadom Boakye -Work of Art & Design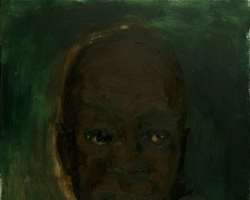 Lynette Yiadom Boakye (born 1977, London, UK) is an artist of Ghanaian descent based in London. Boakye attended Central Saint Martins College of Art and Design, Falmouth College of Arts and the Royal Academy Schools.
Yiadom-Boakye has shown work internationally in exhibitions, most recently the Gwangju Biennale curated by Okwui Enwezor, Korea; 'Flow' at the Studio Museum
in Harlem, New York and 'M25. Around London' curated by Barry Schwabsky at the CCA Andratz, Mallorca; the seville Biennale 2006, curated by Okwui Enwezor and
many others including John Moores 23 at the Walker Gallery in Liverpool, Direct Painting at Kunsthalle Mannheim in Germany, 2004 Bloomberg New Contemporaries
at various venues throughout the UK and Blackout at Brixton Art Gallery. Yiadom-Boakye is represented by ARQUEBUSE in Geneva.
Yiadom-Boakye's work is richly informed by romantic traditions in Western art history, in particular artists such as Goya and Manet who used light and dark to great effect to convey the presence of their subjects. She paints portraits of people who enter her imagination, starkly positioned against dark or indistinct backgrounds. Her fictitious characters, usually black, are prompted by photographs or paintings in which she sees a representation that resonates deeply within her. She describes her subjects:
Although they are not real, I think of them as people known to me. They are imbued with a power of their own. They have a resonance – something emphatic and otherworldly. I admire them for the strength of their moral fiber. If they are pathetic, they don't survive – if I feel sorry for someone, I get rid of them.
I don't like to paint victims. You don't recognize them because they have no allegiance to anywhere. (Flow catalogue)
For her solo show Yiadom-Boakye will present paintings that stand alone, following a specific manifesto devised to guide their individual creation. Most of her works are what she terms 'one-shot paintings', started and finished in a single day or bout of painting and able to be viewed, compositionally, in an instant. These works unequivocally communicate the initial manifesto and impulse behind them (although Yiadom-Boakye leaves the narrative details ambiguous).
Her painting is often informed by her experiments with the written word: she writes manifestoes for her studio practice and short stories that are usually left open-ended, without conclusion. Her approach to titles offers another glimpse of her associative thought process: "Titles rarely follow any logic for me. The references are sometimes art historical, sometimes descriptive but most often the first, middle or last link in the chain of thoughts that resulted in the painting."
|
Article source