Air Nigeria Boss Detained By FIRS Over Unpaid N4B In Taxes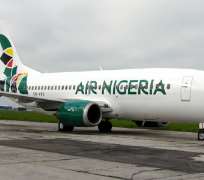 ABUJA, June 18, (THEWILL) – The Federal Inland Revenue Service (FIRS) on Monday arrested the managing director of Air Nigeria, Mr. Kinfe Kayssay for allegedly failing to remit taxes to the tune of N4.868, 496,152 billion.
According to a statement signed by Emmanuel Obeta, the Service's director of communications and liaison department, James Binang, an assistant director in charge of Debt Enforcement and Special Prosecution Unit (DESPU), led the tax enforcement effort, which was aimed at recovering tax arrears accruing to the government.
Air Nigeria was equally accused of requesting and obtaining a Tax Clearance Certificate (TCC) in spite its tax liabilities.
FIRS said the enforcement is part of a bigger move to recover the N170.1 billion (N170,132,089,411:46) outstanding taxes that public and private organisations owe the government, and to ensure that all taxpayers are captured in the tax net.
At the interrogation, Kayssay agreed that Air Nigeria had tax liabilities and begged for more time to clear them. However, the airline's lawyer, Akeem Babatunde denied allegations the company collected the TCC.
"Binang explained that the refusal to deduct and remit taxes as well as failure to file tax returns amount to criminal offences," the FIRS statement said. "Explanations were also sought from the company about the Tax Clearance Certificate (TCC) alleged to have been obtained by Air Nigeria despite its tax liabilities, which was a requirement to secure their expatriate quota."
The Service revealed that it had earlier served series of notices on the need for the company to pay its outstanding tax liabilities and comply with its tax obligations as specified by Nigerian tax laws or face punitive action.
"Apart from the tax liabilities against Air Nigeria, the company has also failed to file annual 'Tax Returns' in 2011 as when due, while the one for 2012 is pending.
"Specifically, Section 31 of the VAT Act No 12 of 2007, provides that: 'A taxable person who fails to submit returns to the Board is liable to a fine of N5,000 for every month in which the failure continues.'"
Only last month, FIRS arrested chief executive officers of seven companies in Lagos for alleged failure to remit taxes totalling N2.17 billion. Company The CEOs arrested were those of Pivot Engineering Ltd (N609,911,992:36), Reliance Telecommunications Ltd (N592,756,627:00), HITV Ltd (N309,500,065:55), UTC Nigeria Plc (N277,589,163:74), Sweet Sensation Confectionary Ltd (N155,483,013:00), Entertainment Highway Ltd (N197,444,964:55) and John Holt Nig. Ltd (N33, 073,487:52).