Juliet Ibrahim Steps Quietly Into Shot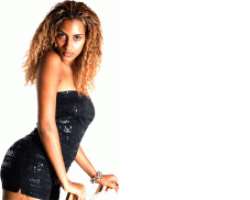 For some actresses, it only took a movie or two for them to gain fame but for others, it has taken quite a while for them to be noticed and one actress who falls in the latter group is .
This beautiful actress has been acting since 2006 and has featured in quite a number of movies but it is only now that she is drawing the kind of attention that she has always wanted among Ghanaian movie lovers.
In a chat with Showbiz recently, Juliet tried explaining what she thinks has accounted for her low profile, "I think that most people don't watch the movies I feature in because mine is not a known face."
Ironically, Juliet says that she is more recognised in Nigeria. "People there know me better, they call me, give me a wave and even take pictures with me when I am there." That situation may be due to the fact that since her acting career took off, she has done more Ghanaian-Nigerian collaborations than wholly Ghanaian movies.
Back in 2006 when Juliet decided to go into showbusiness, acting was the last thing on her mind; she was more interested in singing.
However, since she has always wanted to be in the spotlight, when the doors opened for her to act she did not pass up the chance.
She began by starring in a TV series that unfortunately never came out and then "someone told me about an audition for Venus Films Productions so I went to try out for a role and I was successful."
That movie was Crime to Christ which featured actors like Majid Michel and Naana Hayford and Juliet got the chance to play Naomi, the girlfriend of the major character played by Majid.
After that movie, there was no turning back for Juliet who has gone on to act in movies such as In the Eyes of My Husband, Hidden, Honour My Will, Losing You, Royal Storm, Bloodfight, Tattoo Boys, Cash Adventure, Yankee Boys, Nagging Wife, Midnight Call among others and has acted with popular Nigerian and Ghanaian actors like Ramsey Nouah, Emeka Ike, Olu Jacobs, Mike Ezuronye, Nadia Buari, Yvonne Nelson, Nkem Owoh and Kalsoume Sinare.
In most of the movies she features in, Juliet seems to play more of girlfriend roles and she told Showbiz that, "I don't deliberately go for those roles, that is what most producers give me but sometimes I accept to play those roles because of the stories behind the characters, if they are interesting I don't mind."
That is not to say that Juliet is not versatile, she can play any role she is assigned and she says that her most memorable and challenging roles she has played include a blind girl, an imbecile and a hawker.
"Playing the blind girl was very difficult and required a lot of work but the hawker was quite interesting because it was in traffic and everybody was staring at me."
Juliet says that acting has been very good to her in terms of money and exposure especially when it comes to Nigerian productions.
"Acting in Nigeria is more profitable than in Ghana because in Nigeria the producers give you what you are worth but because the producers in Ghana don't get investments, they don't pay much," she said.
was born to a Ghanaian mother and a Lebanese father and has lived in Lebanon and Cote d'Ivoire but settled in Ghana eight years ago.
She has certificates from the Ghana Institute of Languages where she read Spanish, French and Arabic and the Ghana Institute of Journalism where she pursued courses in Marketing, Advertising and Public Relations.
Engaged to a Ghanaian pilot, Juliet says that her fiance is very understanding of her job and supports her fully.
She describes herself as someone who is cool, calm and quite friendly. So friendly is she that she gives out her phone number to her fans, something that has somehow affected her negatively.
"People try to take advantage of how nice I am; some can call at odd hours, sometimes as early as 5am to talk and I find that very uncomfortable". Acting is only one of the things that Juliet is involved in. She operates a salon and also runs a modelling agency.