The Boy From Awutu Breku Who Took On The World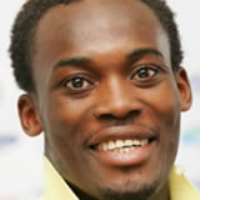 His dexterity during Ghana's campaign at the FIFA U-17 World Cup in 1999 caught the world's attention.
He's come a long way from his days at Liberty Professionals, and his first European club Bastia, from where he was 'snatched' by Chelsea purportedly for a fee of £24.4m – a record fee for global player transfer in 2005.
He made his debut against Arsenal on August 21, wearing the number 5 jersey, instantly becoming an icon.
It isn't everyday that you get such a world icon, a national hero, even if he is a native son who used to walk around the same neighbourhood only a few years ago, to visit.
Today, the boy from Awutu Breku who took on the world, their gallant footballer son, Michael Kobina Essien, had come to town to deliver good news to his kith.
When they eventually realised it was him who had stormed town in the convoy, they were overjoyed. They run after his car till it came to a halt in front of the Traditional Council building where he was due to meet with the chief and elders of the town, to give them the news about the impending commencement of his new Michael Essien Foundation (MEF) which was due to be launched at an exclusive charity dinner dance in a couple of days.
When he got out of his car, there was an instant bellow from the youth of the town to herald his arrival. They were beside themselves with joy.
They didn't know whether to jump, dance or even cry for joy! For some, just a glimpse of him was enough. Others still, just wanted to touch him, yet others wanted to ruffle his tousled hair.
An international footballer with Chelsea in the English Premier League, Michael Essien was born in Accra on December 3, 1982. A central midfielder, he also plays as a deep-lying playmaker for the Black Stars, Ghana's national football team, which he captains in the absence of Stephen Appiah and John Mensah.
Actively involved in his friend Stephen Appiah's StepApp Foundation, Michael realised his dream to set up his own foundation last Saturday at a high profile event at the State Banquet Hall in Accra. A foundation that is so close to his heart that he lent his name to, it is his wish to use it to further his ambitions for the Awutu community which nurtured him in his youth and from where his mother, Madam Aba Gyandoh lived and worked as a baker, and sent him to primary school.
This season's anti-discrimination Ambassador who has recorded an anti racism single with Didier Drogba, has also been working with Right To Play, an international humanitarian organisation that uses sport and play programmes to improve health, develop life skills, and foster peace for children, on behalf of Chelsea FC.
He wants to use the Foundation to touch many lives and improve the wellbeing of ordinary people. Having started life from a humble and rather difficult background himself, he wants his story to be one of hope and inspiration to the youth in Ghana and Africa as a whole, starting primarily from Awutu Breku.
So, to begin with, the foundation has the objective to give the underprivileged in Awutu and its immediate environment access to basic amenities like health care equipment, libraries, public toilets and clean drinking water.
It also has a mandate to raise funds to support, mentor and encourage the youth through sporting activities, with the various towns competing for the annual Michael Essien Cup. And in a tribute to his mother, the Foundation will also run a basic life skills for women's programme yearly, in honour of Madam Aba Gyandoh which will include seminars and workshops for women in the community to empower them in such life skills as basic accounting for the traders among them, occupational skills, the smooth running of the home and children and health issues.
So when Madam Gyandoh was mentioned for acknowledgement at the event which saw many illustrious socialites, professionals and celebrities, many were those who applauded her for nurturing such a son, who sees it fit to give back to the community that fostered him.
Liberian international soccer star, George Weah, was present to formally launch the Foundation.
Gideon Aryequaye, who compered brought events to a high when he invited Kofi Asare Brako, after a sumptious dinner catered by Golden Tulip Hotel, to auction some items including Essien autographed jerseys and boots, among others to raise seed money for the Foundation.
Essien, who comes from a family of six siblings – has four sisters – said stories told of his older brother who loved and played soccer so well but sadly died as a result of trying to find water in a well in Awutu for the family is what urged him to set up the Foundation.
"I always dream of working hard to put a smile on the faces of my family especially my mother, who sacrificed her life for my sisters and I" he explains.
It is also Michael's wish that through the Foundation he will be able to "mentor the youth to be more involved in education and sports and hopefully to help avoid the fatality my mother endured many years ago.
" Tonight, he looked sharp, debonair in a grey suit, and wore a happy smile. He was among friends. At Awutu Breku a few days before, Michael was in a pair of jeans and a loose chequered shirt. As he was being mobbed, with his fans and kith, everyone reaching out, climbing over each other to catch a glimpse of him, or just to touch him, shoving him this way and that, he let them, like a lamb to the slaughter, stopping no one. There too, he wore the smile.
In times like that, he knew he was theirs. Inside the room, he sat with his sisters, whispering amusing things to each other amid the noise and giggling. They looked juvenile, and you could tell the bond between them. He looked relaxed and often lowered his head.
Here at the Banquet Hall too, he often looked down and fidgeted with his phone. Each time his eyes met his mother's they held the gaze for a little while and smiled at each other.
The boy from Awutu had indeed taken on the world with a story of hope and inspiration.