Beyonce's Makeup Artiste @ Exopa Graduation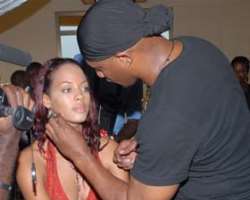 Thomas Dye displaying his skills at the event
THOMAS DYE, an American celebrity make-up artist who has worked with a lot of American superstars including Beyonce Knowles, this weekend made a stop at this year's edition of the Exopa mass graduation event held at the Exopa Burge last Saturday.
He was one of the major celebrities who graced the event which was patronized by a lot of models.
Thomas Dye, BEATWAVES gathered, was in town to do a photo shoot in Dodowa.
His presence at the Exopa graduation ceremony was to observe the trend of modeling in Ghana and get some models for his shoot.
Official sources told this paper that the celebrity make-up artist was impressed by the modeling prowess shown by the Exopa students. He has thus shown interest to work with some of the models.
Thomas, during the occasion, took some time to make the audiences have a feel of his make-up techniques when he marvelously polished one of the models within a short period.
Thomas has worked with platinum recording artistes Destiny's Child, supermodel Iman, and at Christian Dior and Dolce & Gabbana runway shows. He has also worked backstage at numerous award shows.
He prefers to use a variety of different make-up lines such as MAC, Maybelline, Anna Sui, Toni & Tina, Iman, Bourjois, and Bobbi Brown.
Last Saturday's graduation ceremony was full of excitement, as the models used the occasion to thrill the audience with their catwalk skills while they displayed various fashion designs.
Among the designs were office-type clothing, traditional designs, casual wear, sportswear designs and bikinis.
The occasion also saw some upcoming artistes take turns to render some account of themselves on the music stage.
At the end of the occasion graduates from the modelling school were presented with certificates.
The event was climaxed with an after party at the Cinderella's Night Club, behind the Police Headquarters.  
 By Francis Addo