Jos Church Bombing: STF Commander Donates Gift Items To BUTH, JUTH Patients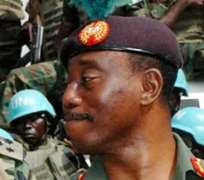 JOS, June 14, (THEWILL) - Commander of the Special Task Force (STF) on Jos Crisis, Major General Henry Ayoola has visited victims of the recent suicide bombing on admission at the Bingham University Teaching Hospital (BUTH) and the Jos University Teaching Hospital (JUTH) in Jos, Plateau State, donating items to them.
BUTH and JUTH treated the largest number of victims of the crisis, who suffered various degrees of injury; while their mortuaries housed bodies of dead casualties before they were claimed by their relatives.
"We are not just concerned about quelling riots or maintaining the peace but also about the wellbeing of the populace, too," said the Army chief, who was received by the chief medical director (CMD) of BUTH, Dr. Stephen Yohanna.
"I am here on behalf of the STF and the Military in general, to demonstrate that whenever there is an incident, we feel very responsive about it. This visit is just a demonstration of it. This visit is about hospitality. The gesture is in furtherance of the civil-military relation initiated by the chief of army staff, Lt. Gen Azubuike Ihejirika."
Responding, an elated Yohanna thanked the commander and his team, recalling previous moments of crisis when the STF made similar solidarity visits. "If not so, especially that one of August last year, we really would have been overrun by people who rushed in looking for people to attack within the hospital. So, we are very grateful for the visit and we are sincerely looking forward to this kind of cooperation," he added.
He said that the hospital received 61 casualties after Sunday's blast but many of them were treated and discharged the same day.
"A few others were admitted and we transferred two to Jos University Teaching Hospital (JUTH) because our theatre capacity was kind of overstretched and overwhelmed and we had to transfer two of the more serious ones to JUTH," he disclosed. "Right now, most of the others have been discharged. I think only five people are still on admission in the hospital. No death was recorded."
Ayoola similarly visited JUTH, where he again donated gifts to the patients through the chief medical director of the hospital, Dr. Ishaya Pam.