Malaika Brains At Work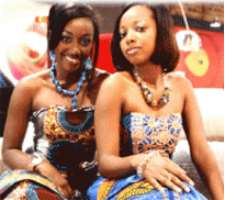 Eklenam and Trudy — Hot girls at quiz
The days of beauty pageants just for the sake of beauty are gone and there is no better confirmation of this than the events that cumulate into Miss Malaika that has been running for the past six years.
Last Sunday on GTV the balance between beauty and intelligence was so effectively played out during the Malaika weekly performance task which took the form of a quiz that was as entertaining as it was educative.
The 14 ladies who were paired, battled against each other in seven groups. It was a fast paced game show that was aimed at bringing out the smartest brains among the lot.
Questions ranging from general knowledge, through to current affairs were fired at them and the delegates battled it out not only as a show of intellect but also in a quest to stay in the competition and make it to the final where they stand the chance of winning a brand new KIA Cerato saloon car and over 20,000 Ghana cedis cash.
At the end of the various rounds of competition, it was the group made up of Trudy and Eklenam that came up tops. Finally when the two had to face each other, it was Eklenam who emerged winner and thereby won for herself an eviction-free week.
The remaining delegates, Trudy, Jasmine, Anita, Audrey, Jennifer, Pamela, Gizelle, Alberta, Victoria, Emelda, Joan, Lady Diana and Laila went into the eviction show expecting to be evicted. However a new twist in the competition allowed them all another chance to stay for another week.
This twist has been a blessing because the contestants have another chance to convince the public to vote for them to stay in the competition and another chance to impress the godmothers to save them when they do come up for eviction.
The next task for the competition will be a cook contest which in previous years has always been exciting.
The text number for the competition is 1750 on MTN and on any other network.
The search the new Malaika queen is sponsored by MTN with support from Gino, KIA, Darling, UB hair relaxer, First Choice, Lifestyle Gallery, Forever Easy and produced by Charterhouse. The series airs on GTV on Sundays at 3 p.m. and can also be viewed on www.missmalaikaghana.com.