Mr Kofi Akordor - Journalism, My First Love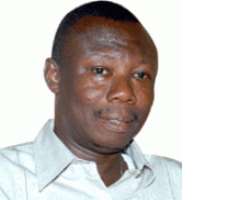 Mr Kofi Akordor, 2008 Journalist of the year.
One man who stood tall in the field of journalism last year was Mr Stephen Kofi Akordor of the Graphic Communications Group Limited. He was adjudged by the Ghana Journalists Association (GJA) as the 2008 Journalist of the Year.
He is, therefore, the first recipient of the P.A.V. Ansah Journalist of the Year Award. He was also named the GJA Columnist of the Year at the same ceremony.
Mr Akordor's column "From my Rooftop" in the Daily Graphic touched mostly on social and national development issues.
He has also won several awards in previous years. In 2003 and 2006, he was adjudged the GJA Columnist of the Year and the GJA Best Feature Writer in 2005.
According to Mr Akordor, right from secondary school, he has always had a passion for reading and writing.
"My English tutor predicted that I have a great potential in journalism or law but I opted for journalism and entered the Ghana Institute of Journalism in 1977, even though I still keep the latter in my sights," he noted.
Having worked in various capacities on The Mirror and the Daily Graphic, Mr Akordor said he was inspired to write because "he wants his country to move from its miserable state to a developed country", and believed that the media could be used as a development agent to sensitise and inspire people to bring about change.
Sharing his childhood experiences with the Junior Graphic, Mr Akordor said he was born into a polygamous family and spent a lot of his early days with his grandmother in the village.
Growing up in a rural environment shaped his pursuits in life, so when he chose journalism as a profession, he knew there was a lot of poverty and deprivation out there and felt that his profession was a mission call to champion the cause of the majority of the people.
Young Kofi started primary education at the E.P. Primary School at Taviefe Avenya, near Ho in the Volta Region. When he got to Primary Two, he left for Asamama, near Kwabeng in the present-day Atiwa District in the Eastern Region, to join his mother.
After completing primary school, Young Kofi returned to Ho to continue his Middle School education at the Ho Roman Catholic Boys School.
"For some reasons I had to change school three times in the same academic year. Fortunately, this never had any adverse effect on my academic performance," he recalled.
In 1969, he entered Mawuli Secondary School, after passing the Common Entrance Examination. Every age has its interesting and intriguing parts and he had his fair share of both at Mawuli.
After completing Form Five, he taught for one year while attending private classes for his Advance Level Examination. He entered the Ghana Institute of Journalism (GIJ) in 1977 and worked with the Water Resources Research Institute for two years upon completion in 1980.
Mr Akordor later joined the Daily Graphic in 1982 and has since remained with the company. In 1993, he took a study leave to pursue a post-graduate course at the School of Communication Studies at the University of Ghana, Legon.
According to him, it had not been easy to maintain a fair, objective and impartial posture working as a journalist.
"In the revolutionary days, it was a one-way traffic and media practitioners, especially those of us who worked with the state-owned media, had to fall in line or fall out of favour and a possible loss of job," he recalled.
Mr Akordor said the 1992 Constitution made things better, at least on paper.
"I am happy that I have survived with some appreciable level of success, mainly because of what I consider as my mission in life — to tell it as it is, as much as it is humanly possible and to fight for a just country for all of us," he said with pride.
Mr Akordor advises the youth that there are no shortcuts in life. It is said God delays but does not deny. You should, therefore, pursue the path of truth and fairness to all".
"Sometimes that may delay the attainment of your life goals. But when it finally comes, it comes with honour, pride and respect," he added.
Mr Akordor is married and has six children.