Samia: In Her Father's Footsteps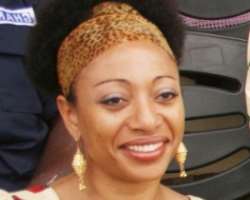 SAMIA Yaba Christina Nkrumah
SAMIA Yaba Christina Nkrumah, born on June 23, 1960, is the daughter of the first president of Ghana, Osagyefo Dr Kwame Nkrumah and his Egyptian wife, Fathia Rizk.
She was born at Aburi in the Eastern Region of Ghana but was later forced to leave Ghana with her mother and two of her brothers, Gamel and Sekou, on the day of the 1966 coup which overthrew their father. They were resettled in Egypt by the Egyptian government.
Samia returned with her family in 1975 at the invitation of General Acheampong's National Redemption Council (NRC) government and attended the Achimota School.
She, however, left the country again when her mother decided to return to Egypt in the early 1980s. She proceeded to London, later completing her studies at the School of Oriental and African Studies of the University of London in the United Kingdom, where she obtained the degree of Bachelor in Arabic Studies in 1991.
She also completed a Master's degree at the same institution in 1993. A Ghanaweb report based on an interview conducted in Rome at a press conference hosted by the Ghana Embassy in Italy to launch activities planned for the Ghana @ 50 celebrations, Samia was quoted as saying that his father's (Dr Nkrumah's) priority was his work.
"We got to understand this at an early age. And we also understood that his life was in danger on many occasions and this necessitated a different kind of family relationship.
A man who has had to endure half a dozen assassination attempts on his life, and some of them with lasting physical damage, must take certain precautions even if these included being separated from his family."
That was when she was asked how her father, Dr Nkrumah, who was known to be a great politician mixed his political duties with family life at home.
When she was asked to say something about the family in her early years as she grew up, Samia said, "When I was younger it felt that we, Nkrumah's immediate family, had to take second place in his life. We did not see much of our father and we did not spend much time with him.
"But as I grew, I saw that in a sense his presence with us has been constant and powerful and his influence on us has been understandably huge.
I have said before that while he left us no material inheritance, he left us a rich consciousness that continues to guide us in our lives.
We have a solid understanding that we Africans hold the key to solving our problems. I have no doubt that as he once said, "When Africa becomes a strong and united nation, Africans will respect themselves and everyone will respect Africans."
"When you are serving a big cause, a cause that concerns many people, you do not see a difference between the personal and the public.
Personal sacrifices are not regarded as losses but as great gains because your happiness is linked to many others. That is how Nkrumah lived his life up till the very end and that is what he has transmitted to us his children". Samia said Nkrumah never lost sight of Ghana and never gave up on his dream and social development.
To him, one could not happen without the other. She said Nkrumah certainly wanted to get back to Ghana after the coup and never lost hope of doing so.
"If he had returned to Ghana, there would have been fundamental changes. For example, he had said that the coup had made plain that the CPP could no longer follow the old line and it had to develop and reform.
At the same time, he was equally concerned with diffusing his ideas on Pan-Africanism because he was convinced that they would outlive him anyway."
When she was asked whether Nkrumah was in contact with the family whilst in exile and also whether he mentioned anything about the coup and the people who ousted him from power, Samia said Nkrumah spoke to the family on phone on few occasions while in exile.
Recounting what actually took place during those trying moments, Samia said, "Father spoke to us on the phone on very few occasions.
We corresponded on a regular, if not frequent, basis. He did not talk to us about his plans and work. Nkrumah, however, detailed all his experiences and thoughts in the various books he wrote after the coup while living in Guinea.
Nkrumah wrote some 14 books on various subjects ranging from the African unity project to specific problems in certain African countries at the time, see Challenge of the Congo and Rhodesia. Many of the books were completed while he was in Guinea after 1966. In his book, Dark Days in Ghana, he talks exhaustively about the coup.
Being the daughter of Nkrumah, Samia followed his footsteps and entered politics. Currently she is a Ghanaian politician and member of the Convention People's Party (CPP). In the 2008 parliamentary election, she won the Jomoro Constituency seat at her first attempt. She is also a freelance journalist.
Samia started work as a bank clerk with the London branch of the Bank of India in 1984. She then worked with the Al-Ahram newspaper as a journalist in various capacities starting from 1989.
She is one of the founders of Africa Must Unite which aims to promote Kwame Nkrumah's vision and political culture. As part of this philosophy, she decided to go into active politics in Ghana. She contested the Jomoro Constituency seat in the Western Region of Ghana and beat the incumbent Member of Parliament ( MP), Mr Lee Ocran of the National Democratic Congress (NDC), with a majority of 6,571, winning about 50 per cent of the total valid votes cast.
Samia is the second child of Kwame and Fathia Nkrumah. She has two brothers, Gorkeh Gamel and Sekou. She also has an older half-brother, Professor Francis Nkrumah, a retired lecturer and consultant paediatrician.
She is married to Michele Melega, an Italian-Danish man and they have one son, Kwame.
Article : Lucy Adoma Yeboah