Mrs. Clara Pinkrah-Sam, Deputy Director, Investment Promotions ITES/World Bank Secretariat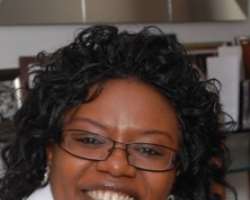 Mrs. Clara Pinkrah-Sam, is known to be the icon of BPO/ICT and Innovative Investment Promotion within the Sub-Saharan African Region. Mrs. Clara Pinkrah-Sam is a licensed Pharmacist, Medical Transcriptionist, Biller and Coder but with her extensive business management background she has became known as the "Guru" in Call/Contact Center and Data Management practices within Sub-Saharan Africa and within the international arena.
Mrs. Clara Pinkrah-Sam has written several technical papers and developed several training modules for delivery in many African countries and within the international community.
Mrs. Clara Pinkrah-Sam has been a consultant for many years for countries within the Sub-Saharan African region, International Development and Assistance Agencies such as the UNDP. She has provided clients with consultancy in Monitoring & Evaluation, Policy Development and Analysis, Market Analysis, Feasibility Studies, Customized Human Resources Outsourcing programs, Turn-Key Business and Start-up Development, Acquisitions, BPO/Outsourcing Development, Training and Management, Business Partnering and Ventureship Development, Executive Management and Leadership Training, Human Resource Capacity Building and Investment Promotion Development and Government Relations and Public Relations Management both locally and in the international arena.
Mrs. Clara Pinkrah-Sam was the founder of PHS Consulting, LLC, under which she provided consulting among others in leadership development skills training, a platform delivery experience underscored by spiritual and faith discipline. Her extensive background includes, but is not limited to the following areas: investment promotion infrastructure audits, strategic planning and providing comprehensive "tailored" training for BPO and the corporate community in optimal promotional decisions-making, maximization of return on investment in promotions and improving profitability by optimizing promotions planning.
Currently Mrs. Clara Pinkrah-Sam has developed the "state-of-the-art" BPO training modules that provides the optimal training and start-up in Call Center Outsourcing, Software Development , Application Maintenance, Software Testing, Billing Services , RD & D Services , Technical Support , Computer Engineering for Data Entry and Information Security
In her capacity as the Deputy Director of ITES/World Bank Secretariat, Mrs. Clara Pinkrah-Sam has provided essential leadership and management to the ITES/World Bank Secretariat that included support and direction for a number of successful organizational initiatives. She played a significant role in assisting managers, supervisors and employees to consistently meet and exceed their action planning goals.
Mrs. Clara Pinkrah-Sam under her leadership analyzed the effectiveness of promotional events, provided a new paradigm approach to promoting prod­ucts through different vehicles which will impact revenue and margin and provides stakeholders a clear concepts of an understanding of demand patterns, determination of base volume and expected lift in demand and revenue, decision-making methodologies on how much to discount items based on vendor-offered promo­tional costs and sales targets and reconciliation of expected promotional revenue and margin with category financial plans. All these accomplishments are underscored by Mrs. Clara Pinkrah-Sam's coaching, developing and motivating immediate staff and stakeholders.
As a former independent consultant under PHS Inc, Mrs. Clara Pinkrah-Sam assisted profit and non-profit organizations to increase their effectiveness through using a unique H30D approach. A balanced formula of head, heart and hands is fundamentally integrated at all levels of the organizational capacity development and re-engineering. Mrs. Clara Pinkrah-Sam unique approach maintains that effectiveness and success of an organization requires a sustained focus on results and relationships, collaboration and accountability underscored by her philosophical designed approach of the "3 Es" namely effectiveness, efficiency and equitability. Mrs. Clara Pinkrah-Sam is also a motivational speaker for political leaders, professional women and the youth.
Tel: +233-21-664816, Fax:+233-21-664835, mobile # +233-244-230531
Mob:+233-244-230531
[email protected] or [email protected]