Chief Asks Parents to live up to their Responsibilities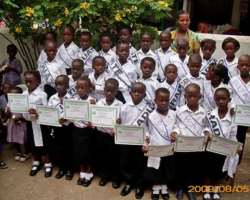 Accra, AUG. 6, GNA – Nii Tetteh Kwao I, Chief of Okaishie in Accra, has advised parents to make the upbringing of children a priority and to be responsible for their education and other social needs.
He said the education of children was crucial to the nation's socio- economic development, hence the need for parents to take proper care of them not only through the payment of school fees but for other social activities as well.
Nii Kwao was speaking at the 22nd graduation ceremony of the Makola Early Childhood Development Centre at Okaishie on Wednesday.
He said if children were to advance and progress in all spheres of life, the answer laid in education because it was the best legacy one could bequeath to one's wards.
The Chief of Okaishie said neglect by parents almost always resulted in the children becoming a menace and a burden to the society, and urged the school authorities to form Parent-Teacher Associations (PTA) to educate parents on the need to send their children to school.
Nii Kwao said it as government policy that every community took active part in the running of its educational institutions, and appealed to individuals and institutions operating at Okaishie to support the school to enable it to realise its aims and objectives.
The Headteacher of the school, Madam Mercy Needjan, said every child had some God-given potential and that it was the responsibility of the parents to guide and nurture it into fruition so that the child would become useful to society in future.
She told the parents to contribute their quota by providing for the needs of their wards, and appealed to the Accra Metropolitan Assembly (AMA) and the banks at Okaishie to provide the school with some basic educational materials.
She said enrolment in the school was very encouraging as it currently has 192 children, of which 98 are girls and 94 boys, and urged the parents not to default in the payment of their wards' school fees.
The children performed a play and a drama piece to emphasise some of the challenges they faced, and called on non-governmental organisation to come to their aid.
Twenty-six of the Kindergarten-Two children who graduated received certificates of excellence.
GNA