D'banj's Bodyguard Allegedly Hits UK Female Fan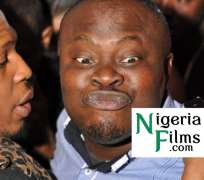 UK: D'banj Bodyguard In Sexual Harassment.
Seun Bankuli, one of the Mushin touts who incidentally is D'banj personal bodyguard is yet to clear himself from the mess he got involved in last night at Aura nightclub, London.
Information at our disposal reveals that, the muscular and very hefty guy hit a girl at Aura Nite Club last night, but he was Punched back instantly by the British Dj/Photographer, Lekan Kamson who witnessed the scenario.
A non-Nigerian Fan was trying to take a picture with D'banj when the uneducated thug held her hard on the wrist and pushing her buttock away from KokoMaster.
Even Naeto C tried to stop him to restrict from such act but he was too late. D'Banj is not aware of the harassment done on his fan. British Promoters and event organizers are to hold a meeting on Thursday to decide if they would rather have an alternative security for Kokomaster D'banj .
In a statement, the British DJ/Photographer, Lekan Kamson when speaking outside the club said" he has to do his job as a security but it is a taboo to hit a woman in UK. We value and cherish them, beautiful or ugly".
-nigeriafims.com