Pension Scam Hearings: Senate Demands Apology From IGI Over Due-Process Indictment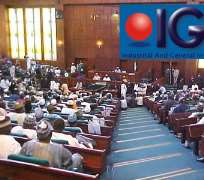 ABUJA, May 22, (THEWILL) – The Senate on Tuesday demanded an apology from the management of Industrial General Insurance (IGI) as well as a published retraction of statements attributed to one of its shareholders, questioning the upper chamber's fairness in its handling of recent hearings on the management of pension funds.
The said shareholder had alleged, in a national daily, that the Senate's Joint Committee probing the management of pension funds did not observe due process when it invited the acting managing director of IGI, Mr. Rotimi Fashola to appear before it, adding that the Senate Committee reversed the arrest warrant upon realisation of the fault.
However, chairman of the committee, Senator Aloysius Etok, during an interaction with the management of IGI, faulted the claim, saying that invitations were duly and appropriately sent out.
Etok further clarified that the committee mandated IGI to pay NIPOST pensioners a sum of N110million, and not N4.6bn as widely reported.
MD of IGI, Mr. Rotimi Fashola however denied knowing the top shareholder who accused the committee, adding that IGI was owing the Nigerian Postal Service (NIPOST) pensioners the sum of N4.6billion.
He further apologised to the committee over the embarrassment, and promised to publish a retraction as directed.
Responding to other issues, Fashola also clarified that IGI had no business dealings with any pensioner. He said that the company rather relates directly with the Board of Trustees (BOT) of the pensioners, and not the individual pensioners