Salami's Reinstatement: US Group Warns Of Revolt Against Courts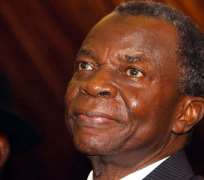 SAN FRANCISCO, May 14, (THEWILL) - A United States of America-based group, Justice For All Nations (JFAN), has described the reinstatement of the suspended President Court of Appeal (PCA), Justice Isa Ayo Salami, as a bad omen for the Judiciary in Nigeria, and a validation of the widely held belief that truth does not count in the country.
It expressed fears that the country is gradually moving towards a situation where the people will revolt against the Judiciary by disobeying court pronouncements, warning of an impending drift towards a state of anarchy, as a society that lacks access to justice and perverts the truth is digging its own grave.
"It is saddening that the Chief Justice of Nigeria (CJN), Justice Dahiru Musdapher, whose evidence nailed Justice Salami before the National Judicial Council (NJC) Probe Panel, could champion his (Salami) reinstatement," a statement issued on Monday by its coordinator, Dr. Dada Popoola, lamented.
"It is sad that it was the same Justice Dahiru Musdapher — who told the NJC Probe Panel on oath that Justice Salami lied on oath against the former CJN, Justice Alloysius Katsina Alu — was the one at the forefront of the struggle for the reinstatement of the suspended PCA," the statement observed.
"The implication of this is that the evidence that Justice Musdapher gave at the NJC Probe Panel was not true, and that he (Musdapher) actually lied on oath against Justice Salami. This further implies that Nigeria now has a liar as its CJN, which is sad!"
JFAN similarly berated the NJC for overreaching the court by deliberating on Justice Salami's matter despite the pendency of four cases, including the one instituted by Salami himself.
"What the NJC members, including the CJN, did simply amounts to telling Nigerians that pendency of suits on a matter no longer has effect, and that the courts can go to hell!" it said. "Those judges who sat at the NJC meeting in which Justice Salami's matter was discussed in spite of the pending cases have simply destroyed the res on the pending suits."
Justice Salami and former CJN Katsina Alu have been embroiled in a long-lasting face-off, each accusing the other of series of allegations that have put serious questions over the integrity of the Judiciary. Salami, who was more noticeably accused of siding with the Action Congress of Nigeria (ACN) in his handling of governorship electoral petitions, and had been suspended for the past nine months, was reinstated two days ago.