President Jonathan Will Submit 2013 Budget By September 2012, Senate Assures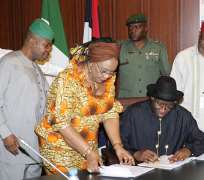 ABUJA, May 09, (THEWILL) - To forestall the perennial problem of late passage of budget by the National Assembly, the Senate on Wednesday settled for a September timeline for the president's submission of his 2013 budget proposals.
Chairman of the Senate Committee on Appropriation, Senator Ahmed Maccido made the disclosure on Wednesday while addressing journalists in Abuja, saying that the Assembly had concluded plans to establish its own Budget Office, and tour the six geopolitical zones in October. The tour, he explained, is to allow Nigerians and stakeholders in the budgetting process make inputs into the 2013 budget.
"We are going to push Executive so much that the 2013 budget must get to us, the National Assembly, latest by September, so that we work right through October and November; and by December, the country gets a new budget," he said.
"Three months, I believe, is enough for us to work on the budget and return it to the Executive for assent. That is our plan for the 2013 budget and we do hope things would go according to plan."
For 2013, he assured that the committee had made arrangements to monitor monies that have been appropriated, and ensure their judicious utilisation.
"There's been a lull in the sense that we came in and there was no provision for the programme in the 2011 budget. The inclusive budgeting process whereby the National Assembly interacted with the public stopped with the sixth National Assembly but we intend to reactivate that soon," he revealed.
"We have to start a new one altogether. In fact, we just got approval for that particular programme in the 2012 budget. By October, we will commence the process. We are going out by the first week of October, to bring together all stakeholders in Nigeria, where we will sit down, discuss and deliberate on their input. We will get their views on the 2012 budget and hear what they expect in the 2013 budget. We will start that by October."
Responding to Senate President David Mark's exhortation that senators should take oversight of the Executive seriously in 2012 in order to curb corruption in the system, Maccido assured that committees are now committed to going on oversight of release of appropriated funds to the MDAs.
"We are going to monitor releases to MDAs, whether there is cash backing for those releases or not. We have a very weak constitution on oversight but this time around, we intend to be much more vigorous in that direction," he said.
"Truly, there has been very ineffective oversight of the MDAs and all the Senate President said is true; our inefficiency in oversight brings about corruption and ineptitude on the part of the Executive because we don't report on them. It brings about so many ills."