Career Chic - Being Fashionable In The Workplace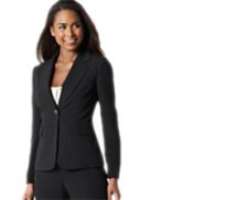 In the workplace, trying to be fashionable yet professional isn't always as hard as it seems. Fashion in the workplace can be timeless and can even allow you to go from your cubicle to an evening out on the town.
As long as you are careful with your manner of dress, speech and behaviour, you can pull off the most fashionable look to your most professional advantage.
For this look you can first, start off with the basics: skirts, blouses, trousers and blazer and turn these professional necessities into chic and sleek business attire.
• Wearing tailored suits and separates may seem a little too boring. Spice up these suits by pairing them with a bright shirt or shoe. A pop of colour brightens black and grey business attire. Suits tend to shine most with pink satin tops, deep blue silk blouses or even a silk white halter under a blazer.
However, keep the bright colour maximum up the three pieces. Do not mix in more than one colour; this can make you look tacky on the job. If you still feel a little bland, add a white neck scarf as an accent to your throat, hair or wrist. When it comes to bottoms, an a-line skirt, pencil skirt or trouser will do just fine. The most important part is standing out from your suit, separate or bottoms!
• Add the touch of flavour to your business attire by throwing on jewellery and accessories. You can never leave home without these! Accessories and jewellery along with a suit or separate will take your business fashion wear into night-time hours.
Wearing large, chunky jewellery may be distractions in the workplace, therefore, switch these up with ropes of costume pearl necklaces or bracelets, a stunning watch and vintage rings and earrings.
These accessories add a fashion statement to your business savvy look making it trendy yet professional and approachable. With accents of jewellery and accessories, you will not go unnoticed by your colleagues in the workplace.
• Always keep your hair well groomed in the workplace. This can set you apart from being business appropriate to fashionable yet professional.
Stick to sleek, traditional hairstyles such as bone straight, a smooth ponytail, an asymmetrical bob or long bangs rather than a messy bun or up do. While free-flowing hair may be trendy, it makes you look less put together.
Being trendy in the workplace doesn't take much effort at all. To build the perfect wardrobe takes time. Always pick up an item or two when shopping to add to your business savvy wardrobe. In no time you will have 'the look' down packed. Take these key points and turn yourself into Ms Career Chic!