MR. MILLISON K. NARH - SECOND DEPUTY GOVERNOR OF BANK OF GHANA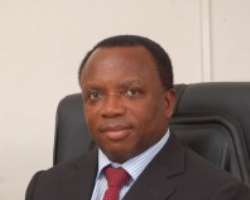 MR. MILLISON K. NARH - SECOND DEPUTY GOVERNOR OF BANK OF GHANA
Mr. Narh has served the Bank of Ghana for thirty-three years and has worked in a number of departments during which he has gained immense experience and is endowed with central banking analytical skills including monetary policy analysis, payment systems development, treasury manpower development as well as financial stability issues.
He is a Chartered Accountant by profession and a member of the Institute of Chartered Accountants. Until his appointment, Mr. Narh was an Advisor and Head of the Centre for Training and Professional Development (The Centre) of the Bank of Ghana, a position he held from June 2008. As a member of Top Management, he contributed to the effective administration of the Bank and his responsibilities involved planning, organizing and formulating policies on the strategic direction of the Bank, and coordinating activities to ensure the achievement of the Bank's objectives. As Head of The Centre, he conducted the training needs assessment of staff and designed the training programme of the Bank. He has developed a curriculum of central banking which is currently being implemented for staff of the Bank. The programme is aimed at developing the capacity of staff in central banking to meet the emerging challenges facing central banks globally.
Mr. Narh was Director and Head of the Banking Department from July 2002 to May 2008 and was responsible for all banking matters, both domestic and international. He supervised the operations of the Head Office and five regional offices involving a staff strength of 500, in the areas of deposit and currency management, trade finance (import and export document handling), global transfers (inward and outward remittances) and development and management of payment systems. He also handled government accounts which involved the receipt of funds into the Consolidated Fund and making domestic and foreign payments on behalf of government. Mr. Narh played an active role in the re-denomination exercise by designing an accounting system to convert and record dealings in the new currency and the simultaneous withdrawal of the old. He directed and coordinated the operational plans by the banks for the re-denomination exercise, planned and executed the issuance of new cheque books to customers of all the banks in the country and designed a system for the dual clearance of cheques (old and new) with resounding success. He was the SWIFT USER group chairperson for Ghana and coordinated the implementation of a number of payment system development projects initiated by SWIFT International.