It's Davido Again, Posing with the Cash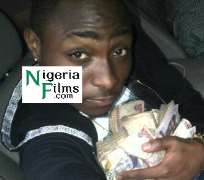 Its Omo Baba olowo again, he's always doing one nasty thing, I think someone should help us tell him this;
we know you've got money so we are not really interested in that (by the way, you get money reach D'banj ni)
When you post this stuffs, other people kidnappers and armed robbers are seeing it. Ask Tuface.
We are more interested in your songs, when you are busy thinking and tweeting about money, when will you have time for the studio?
By the way, when is his album coming out?
In conclusion, No matter how nasty you are, you can't beat Rihanna or Lady Gaga. heck, you can't even beat Derenle
Now, A serious one, when will you pose with a bullion Van?