The rise and rise of Ebo Whyte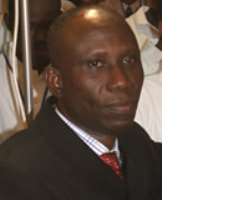 For the past thirteen years, James Ebo Whyte has been working very hard at creating a niche for himself as a household name in Theatre Arts and says: "The possibilities in the theatre industry are endless."
As a result of his hard work backed by Mr. Charles Wireko, CEO of Wienco Ltd - Uncle Ebo, as he is warmly known, has had two huge successes within the last couple of months with his plays "Unhappy Wives Confused Husbands" and "Mr. President watch your move."
His first production this year, 'Unhappy Wives Confused Husbands' drew a good response from lovers of theatre and live performance. As a result, the show was staged fourteen times - twelve times at the National Theatre, twice in Kumasi and at a special couple's dinner at the poolside of Coconut Grove Regency Hotel. Indeed, during the last show many people who waited to buy tickets at the gate had to be turned away because the hotel had prepared to host only 450people.
'The tone of his second play of the year, 'Mr. President Watch Your Move', sounds political. To this, Uncle Ebo explained that "as a writer, the challenge is to be versatile as you can be so you are not pigeon-holed".
He added that you just have to make it as humorous as possible.
For a soft-spoken man who thinks" theatre gives you a sharper memory," one would have thought he would take a break after pulling off such success with his two plays this year. But no, the experienced playwright who's been writing and directing plays for the past thirty four years just screened a new play titled "What Dad Left Behind."
The play, he explains, teaches us that "there is more than enough for all of us, and hence your success should not come at my expense and my success should not come at your expense."
It is about a man who had children with three different women, and after his death it was discovered that he left his property only to one. The ensuing in-fighting, pull and push, as well as its relevance to life, makes this play which opened on May 2 a must-see.
The experienced motivational speaker, who has a penchant for using untrained actors in his plays, says "untrained people give a greater commitment". He further adds "they are punctual at rehearsals and during productions.
"Training is one thing, but having the Zeal for it (acting) is another thing."
His last production starred a pharmacist, a trained engineer, and a lecturer from the physiology department of University of Ghana Medical School. "I like to give people an opportunity, though after maybe three weeks some do drop out," uncle Ebo says in explaining his use of untrained actors.
About the huge production costs associated with theatre, he explained that his last production cost GH¢70,000, with the biggest chunk of this bill going to the artistes. The experienced motivational speaker thinks that production cost shouldn't be low, and says "Artistes should live like someone who works in a bank".
He mentioned that his plays showcase professionals in the industry, which include stage designers, make-up artists and professional musicians who cost a lot, in order to bring out the best of productions. "My plays are a collaboration of talents," he added.
Asked his thoughts on what accounts for the sudden wave of interest by people these days in Theater Arts and especially the high patronage, his plays enjoy unlike the occasional performances by various groups which do not enjoy such patronage. He said "The advantage here is that I am a living playwright and can pick on issues happening around me everyday." He commended other great playwrights like Afua Sutherland; saying "once you write, your ideas do not go out of vogue".
Should we expect him to venture into the film industry anytime soon?
"I have no immediate plans for film," he says. He further shows his passion, and love of theatre, saying "nothing beats the thrill of live performance."
A man of many parts, Uncle Ebo trained as a statistician at the University, he tutored himself to take his Chartered accounts and marketing exam and worked as the head of marketing and finance in a bookselling company; was general manager of a pharmaceutical company; marketing and sales head of an automobile company; as well as head of finance in a non-bank financial institution. What made him decide he wasn't going to work for a salary anymore, but rather devote his time (all) to theatre?
"It's a question of utilizing what God has given you," he explains. I am fortunate because I don't just have the gift, I have been blessed with the platform."

What then is the rationale behind his choice of topics on his inspirational programme "Food for Thought" on Joy FM?"
"We are so busy we don't get time to reflect on life. I have been fortunate to leave the running around and taken time to appreciate the simple things we must reflect on in life.
The Rover Report Monthly, his other baby, is a magazine that focuses on good moral values and attitudes, has been published continuously without a break since its inception and has a readership of 8,000.
Asked what he thinks the government should do to promote theatre arts in Ghana, given the upsurge in the industry, the calm and relaxed-looking Uncle Ebo said: "I don't believe in government, no matter who is in power. I believe in people helping themselves."
Uncle Ebo got married in 1983 and has raised a number of children, though he has no biological children of his own.
According to him, marriage should be complete without children: "If you marry because of children, it is not marriage but a productioncompany."
James Ebo Whyte attended Osu Presby Secondary School and the University of Ghana.
He also has to his Credit, two screenplays – one of which, 'The Good Neighbor', he sold to an America production company.