Celebrating 10 years of Otumfuo Osei Tutu II - Asantehene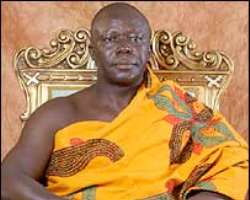 Otumfuo Osei Tutu II - Asantehene
Barima Duah was born in May 1950 to the present Asantehemaa. He began his early childhood with his late uncle, Oheneba Mensah Bonsu, Hiahene of Kumasi.
After his secondary education at Sefwi Wiawso Secondary School and Osei Kyeretwie Secondary School (OKESS) in Kumasi, he studied accounting at the Institute of Professional Studies (IPS), Legon in 1971.
In 1973, Barima Duah proceeded to the United Kingdom to continue his accounting studies at Kilburn Polytechnic in North-West London.
Two years later, he shifted course and enrolled at the University of North London to read Human Resource Development and Public Administration.
In 1980, Barima Duah moved to Canada where he worked with the Ontario Mutual Insurance Group in Toronto as a Senior Consultant for a year, during which, he participated in a short-term company-sponsored course at Toronto University.
He returned to Britain in 1982 and was admitted into the membership of the British Institute of Personnel Management (IPM), a professional body for human resource development practitioners in the United Kingdom, in 1985.
Barima Duah worked for Oxo, the famous British firm of food manufacturers, as an account officer and with his membership of the IPM; he joined the Manpower Services Commission attached to the Brent Council in North London, where he helped to develop and to oversee projects to assist young unemployed youth from deprived communities to get into self-fulfilling employment.
He returned to Ghana in 1989 to set up his own business and has acted as representative of some highly reputable British and European companies in the mining sector.
Barima Duah is married to Madam Yaa Akyaa with three children.
Barima Kwaku Duah, Asantehene-elect on Monday swore the customary oath to the chiefs of the Kumasi Traditional Area under the stool name Otumfuo Osei Tutu II at "Dwaberem" at the Manhyia Palace in Kumasi.
Otumfuo Osei Tutu, 49, successor to Otumfuo Opoku Ware II, who died on February 25 1999, held the "Mponponsuo", the state sword, in his right hand, espoused the greatness, achievements and conquests of his ancestors and pledged to blaze their trail.
"If I fail to continue the exploits of my ancestors and fail in my duty I contravene the Great Oath of Asante", he declared.
The enthusiastic crowd that had gathered there immediately mobbed Otumfuo Osei Tutu. Bare-chested-youth carried him on their shoulders, while women besmeared him with powder amidst singing of praises, drumming and dancing
The ecstatic crowd broke the security cordon to cast a glimpse at the new Asantehene.
The Divisional Chiefs of Kumasi swore the oath of allegiance to Otumfuo Osei Tutu in turns.
Earlier Baffuor Awuah V, Bantamahene and Acting President of the Kumasi Traditional Council on behalf of the 'Kontire Division' called on Otumfuo Osei Tutu to cooperate with his subjects and not to lord it over them.
He expressed the hope that under the administration of Otumfuo Osei Tutu, Asanteman and Ghana would see much progress saying that he should be patient; tolerant; tactful and maintain an open administration.
Present were Nana Afua Kobi Serwaa Ampem II, Asantehemaa the Right Reverend Peter Akwasi Sarpong, Catholic Bishop of Kumasi; Mr Kojo Yankah, Ashanti Regional Minister and Mr Mike Gizo Minister of Tourism.