Media Absence Stalls Capital Market Probe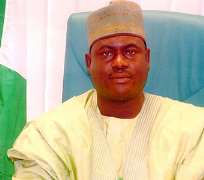 ABUJA, April 30, (THEWILL) - The much anticipated Federal House of Representatives investigation into the discouraging state of the Nigerian capital market failed to hold today as a result of confusion in an arrangement that ought to have seen Channels Television beam the event live to the rest of the country.
Chairman of the House's ad hoc committee, Ibrahim El-Sudi blamed the botched probe on a "communication chasm" with a private television approached for the public hearing.
"We were supposed to air today's public hearing live, but there was a communication chasm with Channels Television, hence our inability to carry the probe live," he disclosed to newsmen. "Nigerians are interested in knowing what is happening so that confidence can be restored."
Those who honoured today's session and left the lower chamber disappointed were Minister of State for Finance Dr. Yerima Lawan Ngama; deputy governor (financial system stability) of the Central Bank of Nigeria (CBN), Dr Kingsley Moghalu; director-general of the Securities and Exchange Commission (SEC), Arunma Oteh, bank heads and other other stakeholders of the capital market.
Answering questions from newsmen, the Minister of State for Finance expressed support for the panel's decision to call off the hearing.
"Many people have invested and we are trying to restore confidence in the market. So, whatever we say has to be covered. Information is the key thing in the capital market; investors take decisions based on information available to them. Any attempt to tamper with flow of information will not actually help the market," he said.
"So, I support the move and accept that everything we do in this panel must be aired live for everybody to see. The investors will know that the problems in the Nigerian capital market are being looked into."
Conversely, SEC DG, Oteh did not respond to questions from journalists on her opinion of the postponement of the investigation.