Euro Zone Price Pressures Persist, Constrain ECB Action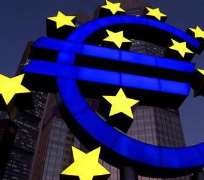 Price pressures stayed high in the euro zone in April in the face of a likely recession, keeping interest rate cuts off the agenda for a European Central Bank seeking ways of reviving economic growth within its inflation mandate.
Annual consumer price inflation in the 17 nations sharing the euro moderated to 2.6 percent from 2.7 percent in March, the EU's statistics office Eurostat said on Monday. Economists polled by Reuters had forecast 2.5 percent.
As the euro zone heads into its second recession in just three years, some of its leaders are rallying to a call by ECB President Mario Draghi to reignite the bloc's economy with policies that focus on growth and not just debt and deficit reduction.
But the ECB's strong focus on containing inflation within touching distance of a target of close to but below 2 percent at a time of high world oil prices means politicians cannot expect action to lower the cost of borrowing any time soon.
"The likelihood of inflation falling below 2 percent in the short run remains low, putting the ECB in a difficult situation," Peter Vanden Houte, an economist at ING, said in a note.
"As the German members of the ECB's governing council have been warning of inflationary pressures potentially building up, a further rate cut seems out of the question."
While inflation is below last year's peak of 3 percent, economists and the ECB had expected prices to fall steadily as the economy stumbles and to offer some relief to households at a time of rising unemployment and sharp spending cuts.
The rate of consumer price inflation rose in March from February and is now only back at February's level, according to Eurostat, driven up by persistent worries of a crude oil supply disruption in the Middle East.
The ECB meets on Thursday and economists overwhelmingly predict unchanged rates, according to a Reuters poll that also points to a freeze in base borrowing costs until 2014.
"We don't expect any radical changes in the monetary stance of the ECB. They will leave interest rates unchanged in this meeting in May," said Clemente De Lucia, an economist at BNP Paribas in Paris.
However, the ECB is expected to try to force borrowing costs down for the bloc's peripheral nations by restarting its government bond-buying program within three months, the poll also found.
Separate data on Monday showed lending to euro zone firms and consumers grew more slowly in March than the amount of money in circulation, suggesting the impact on loan activity of ECB actions to revive the banking system remains limited.
NO QUICK RECOVERY
Draghi said last week in Brussels that inflation was likely to remain above 2 percent for the remainder of 2012 because of high energy prices and tax increases in the euro zone as governments seek more revenues to deal with the debt crisis.
Signaling a renewed focus on fighting inflation, Draghi said the bank "will pay particular attention to any signs of pass-through from higher energy prices to wages, profits and general price-setting".
Draghi told the European Parliament it was "essential" to keep inflation at below, but close to, 2 percent in the medium term, the bank's long-maintained goal.
The euro zone's economy is expected to contract by about 0.3 percent this year and the impact of the debt crisis is being felt everywhere, though economic and employment growth remain relatively resilient in the region's biggest economy Germany.
Draghi warned last week that the onus was on the EU's leaders to pull the bloc out of its crisis following the bank's 1 trillion euro stimulus of cheap, three-year loans.
But the ECB's rate policies could still come under scrutiny unless the economy starts to improve.
Economic data at the start of the year suggested a mild, brief recession in the euro zone, but optimism for a quick recovery is fading and investors are again worried about the solvency of Spanish banks and Italy's ability to reform.
The European Commission's latest business and consumer confidence survey last week found that morale was falling back to last year's lows, while high oil prices are putting pressure on companies' profit margins and complicating their ability to hire new staff and invest.
"Stubborn inflation will only add to households' financial problems in the nearer term and supports the view that the euro-zone will fall deeper into recession," said Ben May, an economist at Capital Economics in London.
REUTERS