Tukur Mourns Late Wazinrin, Says He was A Great Asset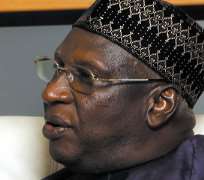 SOKOTO, April 28, (THEWILL) - National Chairman of the Peoples Democratic Party (PDP), Alhaji Bamanga Tukur has described late chairman of Sokoto State PDP, Alhaji Muhammad Tukur Wazirin Bodinga, who died on Wednesday, as a "patriotic" and "loyal, hardworking, and great asset to the PDP."
"The death of Alhaji Muhammad Tukur Wazirin Bodinga came to us as a surprise because he was one of the people who spared no efforts in developing PDP and the ideals of democracy not only in Sokoto state but in Nigeria generally," the statement noted. "He was very loyal to the party and his people, hard working, patriotic and a great asset to the party."
The national chairman, who missed the burial because of a national assignment, appointed a high-powered delegation to Sokoto, on Friday, to condole with the family, the state government and the people of the state.
The delegation comprised the national organising secretary, Alhaji Mustapha Abubakar; national treasurer, Alhaji Bello Ka'oje; special adviser to the national chairman on political matters, Alhaji Ahmed Muhammad Gusau; and deputy national organising secretary, Mr. Okenne Okey Nnadoze.
The delegation was received by the Speaker, Federal House of Representatives, Hon. Aminu Waziri Tambuwal, and Sokoto State deputy governor, Alhaji Mukhtar Shagari, who represented Governor Aliyu Magatakarda Wamako; Wamako was in Saudi Arabia for leeser Hajj.
Until his death, the late Waziri, 65, was an active politician who hit the limelight of old Sokoto State politics during the Second Republic, making a name as a go-getter and result-oriented leader. He became the Sokoto State PDP chairman in 2008, succeeding Senator Bello Jibril Gada, who was appointed Minister of Culture and Tourism.
Under Waziri's leadership, the PDP in Sokoto recorded enormous victories over opponents, winning the entire 30 local government councils seats in the state, and 11 House of Reps and three senatorial seats.
Speaker Tambuwal said the people of Sokoto and the entire PDP family in the country have lost a great politician, grassroots mobilizer and master strategist.
"The PDP family is hereby offering its condolences to the National Chairman of the party," a sombre Tambuwal said. "We pray that Allah, the most benevolent, the most merciful, may forgive his shortcomings, reward his good deeds with Al-jannah and give his family the strength and the fortitude to bear the loss."
Also eulogising the character of the late Wazirin Bodinga, Deputy Governor Shagari extended the condolences of Governor Wamako to the delegation of the party's National Chairman. "Governor Wamako was shocked by the news of the death of Waziri, and he will cut short his trip in order to be with the bereaved family."