Ghanaian designer makes waves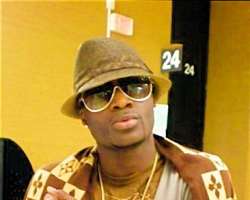 Young Ghanaian fashion entrepreneur, Iceloomy Akwasi Danso is gradually growing his Geez Clark collection of urban apparels into a formidable fashion brand for young and trendy. Born in Ghana, Iceloomy grew up in Queens, NY where he picked up a lot of Africa-American cultures that influence his clothing line today. He has been coming up with most of the design ideas since he started in 2006, but actually has a design team of likeminded people who finalize these ideas.
Geez Clark Clothing is about contemporary hip-hop culture, mixing the urban aesthetics of the streets and the preppy culture of the African continent. The name originated from way back in high school when Iceloomy and friends settled on the Name Geez Clark for a party they threw. The name stuck and gradually became trademark.
"My collections are mostly urban apparels cut clean from selected fine cottons, which gives the styles a different and awesome look. I have t-shirts, polo shirts, sweaters, hoodies and jackets", says Iceloomy who adds that the inspiration for his line are the customers. "They encourage me to bring out more crazy stuffs." Razzmatazz
Although Geez Clark has no main target audience, the most dominant customers range between the teens and people in their early twenties. Iceloomy says that ideas and designs behind the styles of Geez Clark have a lot of African influence. "An example would be my first t-shirt collection which had design like 'spider web' which represents the 'Ananse' stories from Ghana."
According to Iceloomy, he only uses the finest quality materials to ensure durability and longevity. He comments that "…one thing that makes my line unique is the customer's satisfaction and the meaningfulness behind the designs. We work around the clock to come of with interesting and nice designs that will satisfy our growing number of customers."
Interestingly, Iceloomy believes that the latest trend of fashion for African men and women is not yet released and that Geez Clark Clothing will be the first clothing line to reveal that. He says that Geez Clark Clothing line is the must-have for African youth today. The main future plans for the clothing line is to release their suit line and pants line. You can buy online at www.geezclarkclothing.com or www.geezclarkclothing.zoomshare.com