Saraki Obtains Interim Injunction Against Arrest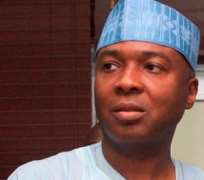 Former governor of Kwara State, Senator Bukola Saraki has obtained a court injunction restraining the Inspector General of Police from arresting him and infringing on his rights to freedom of movement.
In a Tuesday release signed by Akintoba Fatigun, his media aide, Saraki said the action became necessary in order to protect his dignity and prevent further harassment. The full statement reads:
To protect his dignity and prevent further harassment, Senator Bukola Saraki has obtained an interim injunction restraining the Inspector General of Police, his officers and agents from threatening to arrest him or infringe on his rights pending the determination of the substantive suit on Thursday, 26th May 2012.
The motion of notice, which was filed in Federal High Court 4, Abuja by his lawyer, Lawal Raban, SAN, was served and duly received by the Commissioner of Police, Legal today.
As a law-abiding citizen, Senator Saraki has decided to seek legal redress to put a stop to what appears an orchestrated frenzy calculated at smearing his name, assaulting his dignity and intimidating his person through deliberately garbled accounts and serial leaks concerning loans granted to a company that he has no relationship with.
Senator Saraki is indeed in receipt of a letter from the Police Special anti-Fraud Unit, Lagos, inviting him to assist its investigations of a case of "conspiracy, forgery and stealing the sum of N21,000,000,000 belonging to Joy Petroleum Ltd." Senator Saraki has made it clear on many occasions that he has no relations with Joy Petroleum and wishes to restate so.
While taking note of and displeased with the tendentious attempts to prosecute and persecute him on the pages of the media, Senator Saraki has asked the court to determine whether he could be invited by the police to assist in investigating a matter in which he is not linked and for which no specific allegation has been made against him.
Senator Saraki wishes to assure all Nigerians that he has nothing to hide and he remains a law-abiding citizen but that he also has a responsibility to protect himself under the law against what increasingly appears a deliberate smear campaign designed to abridge his rights and muzzle his voice.