U.S. Supreme Court Acquits Chevron In Suit Over Nigeria Deaths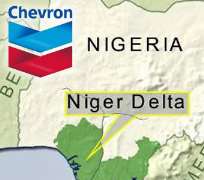 SAN FRANCISCO, April 24, (THEWILL) - The concluding appeal of the verdict of a San Francisco jury that absolved Chevron Corp. of any blame for the shootings of Nigerian villagers who occupied an offshore barge in 1998 was on Monday turned down by the United States (U.S.) Supreme Court, laying to rest years of legal tussle to seek compensation for the death of two people and injury to two others among hundreds of villagers who were protesting the company's hiring and environmental policies.
During the protest, Nigerian security forces shot at protesters on a barge roped to a company platform nine miles off the coast of the oil-rich Niger Delta after three days of futile negotiations with leaders of about 150 villagers.
The villagers, knowing that the soldiers were invited on the orders of Chevron officials, headed to court, hanging the responsibility of the deaths and injuries on the oil company. But they lost the case and lost every other appeal, too.
Villagers said drilling and dredging polluted their wells and destroyed their flora and fauna. They testified at the San Francisco trial in 2008 that the protest was unarmed and peaceful but Chevron's witnesses said the protesters threatened violence, held crew members captive and demanded ransom.
At the Supreme Court, they asked for review of the refusal of the federal trial judge to allow the jury consider an additional allegation that the security forces tortured some of their captives.
Earlier last week, the high court ruled that a 1991 federal law allowing victims of torture abroad to sue their abusers in U.S. courts authorises suits only against individuals and not against corporations and organisations.
Cindy Cohn, a lawyer for the villagers said that Monday's dismissal of the Nigerians' appeal was certain after last week's ruling. She observed that the court had ruled, in 2010, that corporations have the same constitutional rights as individuals to spend money on elections, and urged Congress to amend the 1991 law to equally make companies liable when they authorise acts of foreign torture.
"We need to decide one way or the other," Cohn said. "Corporations either have the rights and responsibilities of ordinary people or they don't."