I Love Modeling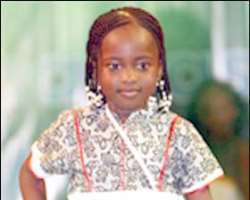 Sumuha Abdulsamad BELIEVE IT or not, modeling is not only becoming a 'big-do' for young ladies and gentlemen in Ghana, but its euphoria also is gripping a lot of minors out there.
Six-year-old Sumuha Abdulsamad is one of such children who are already models. A star in the making, she is a true modeling prodigy whose multi-dimensional gift is worthy of attention.
Sumuha made her debut appearance on the runway when she was only 5 years old. This was when she and other kids opened the EXOPA Fashion Week and The GH Fashion Week, both in 2007, live on TV3. She was undeniably the toast of patrons in those two shows. Her smartness and confidence on the runway are not only intriguing but also unbelievable.
She told BEATWAVES yesterday that she loves modeling and wanted to become a big star someday. According to her mother, Madam Amina Abubakar, anytime there is a fashion show on TV, Sumuha stays glued to the TV set and turns herself into a judge as she judges every move by the various models on those shows.
"She always tells me this person or that model didn't do the catwalks well. It is amazing. Nobody forces her; she really loves modeling and she always says she wants to become a top model," said Sumuha's mother.
Born on May 13, 2002 in Kumasi to Mallam Abdulsamad and Amina Abubakar, she is a class one pupil of Grace Baptist School in Kumasi. Her mom, a trader, said their priority as her parents is to give her the necessary education and support her to pursue any good course of her choice. She added that since she loves modeling they would support her.      
By Francis Addo