Amended Constitution Will Be Ready By July 2013, Says Ekweremadu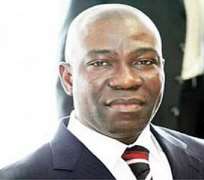 ABUJA, April 18, (THEWILL) - Deputy Senate President and Chairman of the Senate Constitution Review Committee, Ike Ekweremadu has assured that the amended 1999 Constitution would be ready by July 2013.
Briefing newsmen after Wednesday's meeting of the CRC, he disclosed that the committee would rely on the experience it garnered from the last constitutional review process in dealing with some of the contentious issues, such as creation of states and revenue sharing formula, that may arise.
"Give and take, our estimation is that by July, 2013, we will be able to conclude another set of constitutional amendment," he said. "We even planed to move faster than that but there are other national assignments. We are going to engage the 2013 budget, which I suppose will come in September; and then ensure that other legislations do not suffer. So when we put all these things together, we believe that July 2013 will be an appropriate time to deliver the next set of amendments."
He said that the committee would work together with the House of Representatives on the mission, as has been the tradition.
His words: "That will save Nigeria huge resources; it will save us time. I have always believed that two heads are better than one. So we intend to approach the House and ask for all of us to work together.
"If that happens, that will be nice and we will work together with them. But if it doesn't work, we will also continue to engage them. We brief them on what we are doing and also ask them what they are doing as well so that we will all be working towards one direction.
Ekweremadu also spoke on the budget for the committee, saying "What happened with National Assembly budget was that we just had a one-line item because of the constitutional amendment that has given to the National Assembly. Until the finance department breaks it down, I am not sure how much we are getting."