Tackilicious Ghanaian Weddings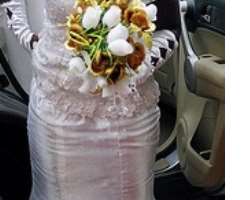 Simple is in, Tacky is Out! Your wedding day is a day for you to look like a princess and not a dead woman walking!.
Ditch those funeral lace gloves. If is necessary to wear a glove, i advice a plain one. Ditch those hard badly made wedding dresses. Even if you have to spend a fortune, your wedding dress is what people are going to remember the most.
Please consider the bridesmaids as well. As a wedding planner, is shocking what some brides put on their bridesmaids. Simple soft colours are the best.
Please consider the skin colours of your bridesmaid before choosing a color scheme for the dresses. The best colours for Black skins are usually blue, soft green, deep pink, Deep purple and soft gold.
Also, i advice real flowers over fake bouquets. My Ghanaian brides would rather hold a fake bouquet. Is best to get it custom made since they are usually made to fit the palm of your hand neatly.
Remember your wedding day is your day, there should be no compromise.