African Women Perfect Makeup Colors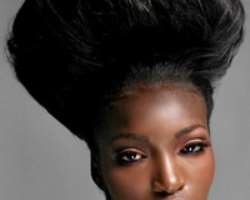 Even with unbelievable beauties like supermodel Iman on the scene, for many years African women had a difficult time finding the right cosmetic colors.
Out of this need, Iman has created one of the most successful cosmetic lines geared toward women of color, specifically African skin tones.
Her years of modeling led her to discover a marked lack of options for darker complexions, and she handled it.
Times have changed, and now there are a wide array of products available for women of every color – and thank heavens! So here are a few of our favorite tips and guides for darker complexions.
Foundation:
Foundation is possibly both the most difficult and most important product to find. The right color and formula will give you a smooth, even base to build upon, and the wrong one will make you look like you're wearing an off-color mask!
Thankfully, foundation for women of color is no longer the "Lost Ark" of beauty products with excellent formulations popping up from Iman and even Revlon. Oil-free creams and liquids are advisable, as our some powder foundations. For the most accurate color-matching, try a swipe along the jaw line, and choose a color that disappears onto skin.
Finish with a translucent powder to absorb excess shine and oil, and throw a pressed powder compact in your purse for touching up throughout the day.
Accentuate the contours of your face with blush. Warm honey tones with a bit of shimmer can highlight cheekbones, as can rich plummy colors and terra cotta reds. Apply color to the apples of your cheeks (the fleshy part when you smile), and blend back and upwards along the cheekbones.
Eyeshadow Color
Eyes are the windows to the soul, or so I'm told. Make sure your soul windows are beautifully draped in rich color. Shimmer can be absolutely stunning on a darker complexion, so check out golds, bronzes, and silvers. A black eye line drawn right outside or inside will define and bring out eyes, and add a smoky touch with a well-blended black shadow.
Beautiful brights are also pretty amazing on black skin, so play, play, play to your heart's content.
Use a shimmery white shade (MAC Nylon works!) to highlight underneath the arch of the eyebrow and also along the inside corner to bring eyes forward and give 'em a little pop.
Finish with mascara in black, or be brave and try some of the bolder colors available, like magentas and greens for additional va-va-voom!
Lip Color
The world is full of gloss ladies and lipstick lovers. Pick your poison, and go for it! Rich berries and reds, or sheer tawnies and shimmery bronzes, choose a color and formulation that makes you feel sexy and beautiful.
MAC has a tremendous variety of lip products to flatter every complexion and taste