STEPHANIE OKEREKE'S WEDDING LATEST:ARIK AIR TO FLY GUESTS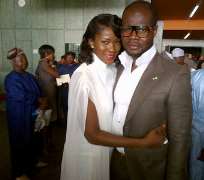 The sunny-faced multiple award winning actress, Stephanie Okereke, will be getting married to her heartthrob, PR genius, Linus Idahosa in far-away France, sharing vows in front of family, friends and colleagues. The ceremony which undoubtedly is the most anticipated wedding in the country will hold in a 17th century Parisian Castle reserved for royalties this Saturday, April 21. It is rumoured that the new couple wish for guests to receive a unique kind of 'touch' from the experience.
The wedding will be a very private affair, celebrating the couple's love, respect, admiration and appreciation for each other.
Arik Air, the official airline for the wedding, is playing a major role. With a chartered flight for select guests from Nigeria to France, Arik has proven to be a true Nigerian brand supporting one of its bests on their special day!
Air France, we also hear is throwing its weight behind the couple; providing highly discounted tickets to guests from all over the world and sponsoring the couples honey moon trip to any destination of their choice abroad.
Everyone is curious to know what Stephanie would be wearing and all the fun and breath-taking details of the event. Magazines are already clamouring to cover exclusive details of the wedding but we are yet to get the gist on the magazine of choice for the couple.
You might also like: