CERTAIN MEN HAVE CREPT IN UNAWARES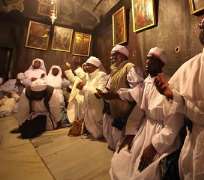 The gospel of our Lord Jesus Christ is always the only hope of this world. And the Church unblemished, unspotted and unwrinkled is the sure place to begin the realization of that hope, even eternal hope. The Church is a body of pilgrims walking on the highway of holiness to the land sublime and celestial; the place of the all holy, all knowing, all present and all powerful triune-God. The church is a called out people, called out from the world and all that is in the world: the lust of the flesh, the lust of the eyes, and the pride of life, for the world passes away, and the lust thereof (1John 2: 15-17). This body of pilgrims called the Church remains and is kept here on earth in the interim to salt the earth, light the world and reveal the person of Jesus Christ to humanity through members' lives, for this is how the name 'Christian' came about in the first place: Like Christ! They seek Heaven, live for Heaven, lay their treasures in Heaven!
They run a race that has indescribable prize; they run to win the prize, and they subject themselves to the rules of the game. The rules are laid down in Scriptures and are interpreted by the Holy Spirit and not by our flesh. The flesh will ever promote the thing that feeds it. It is eternally insatiable knowing nothing about living in the realm of meeting needs. It knows nothing about "godliness with contentment is great gain" and "they that will be rich fall into temptation and a snare, and into many foolish and hurtful lusts, which drown men in destruction and perdition" – See 1Timothy 6: 6-10. And it (the flesh) knows nothing too about what comes after those I Timothy 6: 6-10 verses, that is, verses 11-12: "But thou, O man of God, flee these things; and follow after righteousness, godliness, faith, love, patience, meekness. Fight the good fight of faith, lay hold on eternal life, whereunto thou art also called, and hast professed a good profession before many witnesses."
Flee what: the context reveals it. It includes 'un-contentment' (verse 6) for we brought nothing into this world, and it is certain we can carry nothing out (verse 7); again, un-contentment (verse 8) for "they that will be rich fall into temptation and a snare, and into many foolish and hurtful lusts, which drown men in destruction and perdition. For the love of money is the root of all evil: which while some coveted after, they have erred from the faith, and pierced themselves through with many sorrows" – 1Timothy 6:9-10
Heavenly minded pilgrims do not seek the things that the world seeks, for their heavenly Father knows all their needs (and another word for 'need' is 'necessity'). God knows our necessity and those who allow His Spirit to define their necessity don't fall prey to this Laodicean gospel rampaging Christianity today or get caught up in this dragnet of mammon dragging many away from the narrow way in our age. This mammon-driven and emotion-targeted preaching and songs freely passing for the gospel of our Lord Jesus Christ among gullible and itching ears congregation and persons is too sad to say the least. Very few are the preachers today who will tell their congregations the truth that God does not accept the offering of sinners. Few will preach the sound doctrine of repentance from sin and salvation of the soul from sin and eternal fire of damnation. They need the offerings, and the easiest way today to do it is messages that address the fancies of the people or the fancies of the flesh such as 'prosperity', 'miracles', 'breakthrough' and 'deliverance from demons', and almost always denying God the souls of these people.
For really: is there a better prosperity than the soul's salvation from sin or the soul's prosperity? Is there a greater miracle than that? Is there a greater breakthrough than that? Can men be truly delivered from demons with their sins intact? And so, the only thing that sets free from Satan; the only thing that makes men free and free indeed; the only thing that ushers men into eternity with Jesus Christ is almost taken away. Why: Talk about sin, and the offering is drastically affected. But we cannot shy away from the dangerous subject matter of sin, hell and eternal damnation; and more importantly, we cannot shy away from their glorious opposites of salvation, heaven and eternal bliss and of how they can be ours. We can only shy away from them to our peril.
Repentance from sin and turning to God and living a life that pleases Him or living for His pleasure now and thus ensuring our abiding with Him eternally is the primary and central message of the gospel and every other thing ties to it. This is the key goal and heart of the Cross. Those who genuinely repented and sought God's Kingdom and its righteousness in Scripture received the things Christ promised to add, and that according to their needs or the needs of the church through them anyway. And many of those who received various forms of miracles before the greatest miracle of salvation came to taste of the work of salvation in their souls which is actually the goal of Bible miracles. To avoid the subject matter of total and genuine repentance, the need for the soul's rightness with God, holiness of life and righteous living; and indeed to ignore emphasizing the need to 'earnestly contend for the faith', 'conform to the image of Christ' etc because of filthy lucre is actually to present another gospel, which is not another though.
Why seek and promote filthy lucre rather than the kingdom of God and its righteousness? Why worship mammon rather than worship God? Sadly truly, when the watchmen slept, "certain men crept in unawares". May we hear then the admonition of Scripture; and we shall tell it in this gospel hymn: "Certain Men have crept in Unawares", by this writer based on sundry Scriptures:
1. Certain men have crept in unawares.
These turn God's grace into lasciviousness.
Ungodly men, the Scriptures call them,
Ordained of old to this condemnation!

Let us forbid mammon worship;
Let's not corrupt the Word of God,
Or deal untruly with the Scriptures.
But as of sincerity, but as of God,
In the sight of God, may we speak in Christ.
2. Through covetousness and by feigned words,
They shamelessly make merchandise of you;
Whose judgment for longtime lingers not,
And just as their damnation slumbers not!
3. They that are such do not serve the Lord,
But their own belly, their very belly!
And by good words and with fair speeches,
They do deceive the hearts of the simple.
4. Their very mouth must be stopped brethren.
For verily they subvert whole houses,
Teaching things which they ought not to teach;
And this they do for filthy lucre sake.
5. Let's no more walk after our own lust.
Never again should we run greedily
After Balaam's error for reward!
Let's spare our pulpits and pews this evil.
" And unto the angel of the church of the Laodiceans write; These things saith the Amen, the faithful and true witness, the beginning of the creation of God; I know thy works, that thou art neither cold nor hot: I would thou wert cold or hot. So then because thou art lukewarm, and neither cold nor hot, I will spue thee out of my mouth. Because thou sayest, I am rich, and increased with goods, and have need of nothing; and knowest not that thou art wretched, and miserable, and poor, and blind, and naked: I counsel thee to buy of me gold tried in the fire, that thou mayest be rich; and white raiment, that thou mayest be clothed, and that the shame of thy nakedness do not appear; and anoint thine eyes with eyesalve, that thou mayest see. As many as I love, I rebuke and chasten: be zealous therefore, and repent" – Revelation 3:14-19.
Written By Eferovo Igho

Disclaimer:

"The views/contents expressed in this article are the sole responsibility of

thewillnigeria.com

and do not necessarily reflect those of The Nigerian Voice. The Nigerian Voice will not be responsible or liable for any inaccurate or incorrect statements contained in this article."
Articles by thewillnigeria.com