Jonathan Assents To N4.697tr 2012 Budget, Vows To Punish Lobbyists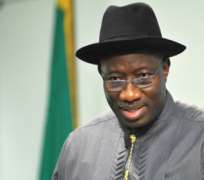 ABUJA, April 13, (THEWILL) - President Goodluck Jonathan on Friday granted assent to the N4.697trillion budget of the 2012 year as passed last month by the National Assembly, promising to reprove any Minister who returns to the Assembly to lobby for an increase in the money allocated to his/her ministry, agency or department.
Jonathan said that such lobbying had, in the past, spawned distortions to the budget.
"We need proper planning; no lobbying," the president said in his office while assenting to the budget.
"Drive those who come to lobby away. I will use some people as an example because we cannot run a country without planning. We will not allow personal interests to distort the budget. There will be a better plan than this," he added, egged on by Chief Enyinnaya Abaribe, the representative of the Senate president; and Chief Emeka Ihedioha, Deputy Speaker of the House of Representatives, who attended the signing ceremony.
In December 2011, President Jonathan had presented to the National Assembly for appropriation, the budget proposal for 2012 with a total expenditure of N4.749 trillion based on a benchmark oil price of US$70 per barrel.
However, in March 2012, the National Assembly sliced the figure slightly, passing a budget of N4.697 trillion based on a benchmark oil price of $72 dollar per barrel.
The 2012 appropriation bill, dubbed A Budget of Fiscal Consolidation, Conclusive Economic Growth and Job Creation, comprises capital expenditure of N1.34trillion and recurrent expenditure of N3.35 trillion.
It has an aggregate expenditure of N4.697 trillion disregarding the appropriation of N180 billion for programmes and projects under the Subsidy Reinvestment and Empowerment (SURE) Programme, which has since been rejigged due to the partial withdrawal of fuel subsidy.
The president promised to present the 2013 budget by September 2012 and begged the National Assembly for seamless work with the Executive.
"This year we have challenges," he said. "It was quite choking but we will do better for next year and I hope to present the next budget in September."