NFF LINES UP SPAIN, PORTUGAL FOR EAGLES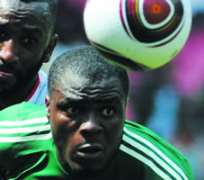 Emenike
Worried because of the downward rating of Nigeria in FIFA rankings, football authorities in the country have almost concluded plans to secure Grade A friendly international matches for the Super Eagles.
Information had it that the Nigeria Football Federation (NFF) Technical Committee has recommended that Eagles, who are at the moment ranked 60th in the world, would play reigning world champion, Spain, Germany, Holland, Portugal and Uruguay in a bid to keep the team busy throughout its campaign in the 2013 Nations Cup and 2014 World Cup qualifiers.
Super Eagles will face a team in the top five of the latest FIFA rankings, according to NFF. Chairman of the Technical Committee of the NFF, Christopher Green, explained that the 'necessary paper work is being worked on' and that the identity of the nation would be unveiled shortly.
'The necessary paper work is being worked on and as soon as we have rounded off all that is required, we will make the information public.
'However, I can state categorically that in September, Nigeria will meet one of the top five football nations in the world,' Green said
The NFF chief also revealed that the game against the team has been tentatively fixed for September 2012 at a yet-to-be-decided venue. Nigeria is ranked 60th in the latest FIFA world rankings.