8 reasons denim rules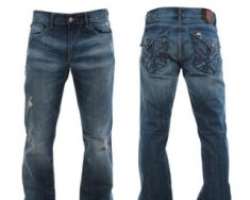 Whether worn with a velvet jacket or favourite faded hoodie, your jeans will go anywhere, anytime...
1. There are no rules. You can wear jeans anywhere­ just tweak the look of what you wear on top to match the occasion.
2. They are the most popular pants in the universe ­with over 40 million pairs sold worldwide every year.
3. You look good in jeans. She says they show off your butt.
4.You don't need to iron them. Jeans are low-maintenance ­— just wash them out, hang them up and slip them on.
5. They never go out of fashion. Never throw them away ­they're one fashion item that will keep recurring, whether they're skinny, bootleg, hipsters or stonewashed.
6. There is a shade for every man. Dark-indigo is the hot colour at the moment.
7. Jeans increasingly come in different styles and cuts. Skinny jeans are in this season. Even if you're adamant they're not for you, at least try a pair on ­ you may be surprised how good they look.
8. You can never have too many pairs. The differences will lie in the detail, the styling and the cloth.