HOW GOVERNOR FASHOLA FAILED TO SETTLE D'BANJ AND DONJAZZY + DON JAZZY MOVES INTO NEW N30M LEKKI HOUSE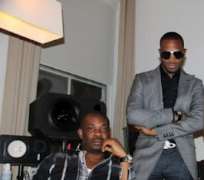 That's clearly the situation between estranged Mo'Hits bosses D'Banj and Don Jazzy as their rock-solid business and relationship continues to disintegrate.
Just a week ago,the hit producer Micheal Don Jazzy Collins practically confirmed the rumours about his on-going rift with Dapo D'Banj Oyebanjo,causing a mega media frenzy in Nigeria and elsewhere.
Of course the whole brouhaha spread like wildfire, and in minutes, words like 'Don Jazzy',D'Banj', 'Mo'Hits', were trending on Twitter.
The last week has however been a very interesting period for those who the 'breakup' has affected; as entertainment journalists and tabloids offer analysis on what might have shattered their relationship, some are trying to bring the bosses back together.
Other than those who will lose tremendously from the fall out, we hear even the Governor of Lagos summoned both parties in a move to restore the seemingly unshakable bond.
Their mentors have also intervened, hoping they'll see reason and possibly resolve the conflict. But close friends say too much water has gone under the bridge, and bringing them back right now looks more like a herculean task.
It's more messy and dirty than you think, one insider tells us. They aren't on talking terms, it's that serious.
I doubt they want to see eye to eye anymore, at least for now.
D'Banj,who was in the country last week,left for the US on Tuesday night.Some days earlier,we learn that he changed keys and locked up the Lekki residence which was once occupied by himself and Don Jazzy.
The producer,who we reported to have been staying with Dr Sid at his 1004 residence,has now relocated to the super expensive NICON Estate,also in Lekki.
We're told he may have coughed out nearly N30M for the new place.
Despite all the happenings,the Mo'Hits crew seem to be keeping quite busy-Dr Sid(who now seems to be Don Jazzy's right hand man) has professed his alliance with the producer.
Don Jazzy is the most important piece of Mo'Hits,who doesn't get the credit he deserves,without his creativity a lot of things will not exist,Sid said via Twitter,in apparent support for his boss.
Meanwhile,Wande Coal recently premiered the video of one of his singles 'Private Trips' which has received positive reviews.And,as if to confirm our report on the new clique: the quartet of Sid,D'Prince,Wande Coal and Jazzy were in South Africa penultimate weekend for the launch of Samsung's new HI-Fi sound system which Don Jazzy reportedly helped design.
D'Banj and his brother Kay Switch were conspicuously missing;even though our investigations reveal that the deal had been signed and sealed,before the Mo'Hits brouhaha reached its peak.

GOVERNOR FASHOLA