PDP BOT: OBASANJO'S SUCCESSOR 'LL EMERGE THROUGH CONSENSUS, SAYS JIBRIN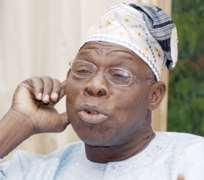 Replacement for former president and immediate past chairman of the Peoples Democratic Party (PDP) Board of Trustees, Chief Olusegun Obasanjo would emerge through consensus. The secretary, BoT Senator Walid Jibrin dropped the hint yesterday even as he allayed fears that Chief Obasanjo's resignation would upset the party's machinery.
The former president had resigned on Tuesday to the consternation of party chieftains. Senator Jubrin further told journalists that the replacement for the former president would not come from the North, since the secretary of the board is from Nasarawa State, in the North-central geo-political zone.
Jubrin described the tenure of Obasanjo as BoT chairman as very exciting and declared that at the appropriate time, a chieftain of the party, whose credibility, loyalty and diligence would endear him to all, would be picked as replacement for the former president. 'I am calling on BoT members of the party to remain calm, Chief Olusegun Obasanjo's resignation, though shocking and impromptu, will not break the PDP.'
'The BoT members are gentlemen and women, who will do the correct thing and since the constitution has provided that the chairman and secretary should emerge from among ourselves. Just the way I was elected as secretary last month unanimously, we will sit down after wider consultations to elect a new chairman soon. 'Where the chairman will come from, with me now coming from the North and a Fulani man, with other factors will determine and we know that zoning is in PDP and that will come to play, it will not be a difficult task to produce.'