OGE OKOYE BOUNCED AT EVENT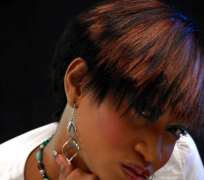 Top actress Oge Okoye has worked hard in Nollywood and has been able to interpret over 50 characters in various films.
From emerging as the girl next door,the light skin actress has turned to one of the star actresses in the Nigerian movie industry.
While it is unarguable that Mrs. Okoye has garnered plausible recognition in Nollywood and beyond,her close pals,fans and colleagues are beginning to perceive her as someone who is unable to manage stardom.
According to them,this pretty damsel is allowing fame and popularity to sink into her head so much that all the respect left in her have been traded for her face.
She displayed one of such attitudes that people detest on Saturday,March 24,2012 at Balmoral Event Centre at a fashion show that brought A-list models and Nollywood stars together.
As gathered,the actress was not only one of the invited guests but also had a role to play at the show.As such she had an invitation card delivered at her home weeks before the event.
Eventually,she appeared at the venue without her invitation card,and as things will have it, it turned into a very big opportunity for bouncers to demonstrate their power on her.
It almost turned to a serious war of the mouth between the movie star and the bouncers if not for the intervention of Mr. Paul Obazele,former President of Association of Movie Producers(AMP),who drew Oge Okoye away from the midst of angry bouncers and took her towards the reserved area to join her colleagues who came earlier.
Oge who was so bitter stopped at the door,turned around and noticed that Mr. Obazele has focused his attention on other things.Subsequently,she turned around and left the venue,went into her car and zoomed off.
As revealed to us,Mrs Okoye later confided in her close friends that she cannot stand being bounced from an event in this country,even if she does not appear at the gate with an invitation,her face,fame and popularity should speak volumes to anybody.
However it was disclosed that Mr. Obazele was disappointed that Oge Okoye disobeyed him and abandoned the show,despite the fact that she was one of the actresses who got the assignment to represent Nollywood in the run way that evening.
All her costumes were said to be ready but she dumped everything and walked away without notice.