TOP MODEL BISI RAHAMAN WEDS BONNY JAMES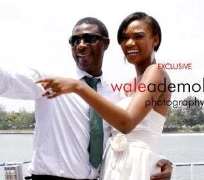 Bonny James Olong has obtained favour from the Lord as he finds a wife in the person of top model,Bisi Rahman.
The lovebirds got married yesterday.
The court wedding that had couple of friends and families of the newest couple in town in attendance was held at Ikoyi registry.
The traditional and church wedding will take place this weekend.
Congrats to the couple !
click the link below to go to...
SUPER MODEL BISI RAHAMAN FINALLY FINDS LOVE.