Enterprise Insurance Boosts Healthcare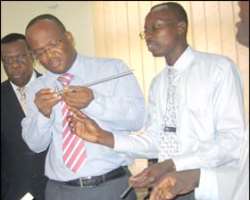 AN Endoscopic Urology set and a cheque for GH¢5,000 were on Wednesday presented to the Genito-Urinary Department and the Ghana Heart Foundation of the Korle-Bu Teaching Hospital at a brief ceremony in Accra.
The endoscopic urology set included a telescope, which would be used by Urologists at the hospital to examine the human bladder and the tube that carries urine to the blood cells.
The medical equipment, worth GH¢18,000 and the cheque donation were released through the heads of the two departments, Dr. Samuel Gepi-Attee and Prof. Kwabena Frimpong-Boateng.
The management of Enterprise Insurance Company (EIC), who made the donation, said the gesture formed part of the company's efforts to promote quality healthcare in the country.
"We will not relent in our efforts to ensure that Korle-Bu and other major hospitals in the country deliver the best of quality healthcare to people who need it most.
"This gesture forms part of our humanitarian services to the deprived in society," said Mr. George Otoo, Managing Director of EIC at the presentation ceremony.
He assured the hospital of the company's support at any given time, as far as it goes to help deliver the best of healthcare.
Doctors Ben Annan, Director for Medical Affairs and Samuel Gepi-Attee, head of the Genito-Urinary Unit were grateful to the company.
Dr. Gepi-Attee called for increased partnership in Korle-Bu's bid to achieve excellence in healthcare delivery.
He was however not happy about the number of qualified Urologists in the country, saying Ghana could boast of only 14 qualified Urologists, six of whom were in Korle-Bu.
"We need at least one thousand (1,000) Urologists to take care of the many reported cases of Hypertension-related cases in the country."
Dr. J.E. Mensah, a Consultant Urologist briefly explained the use of the equipment.