Iran Says Expects Nuclear Talks On April 13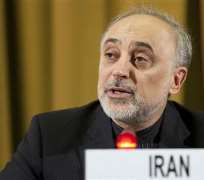 Iran expects to reopen talks with world powers that could defuse mounting tensions over its disputed nuclear program on April 13, Foreign Minister Ali Akbar Salehi said on Wednesday.
Turkey has offered to host the talks and the location will be decided in the next few days, Salehi said, after greeting Turkish Prime Minister Tayyip Erdogan on his arrival in Tehran.
The major nations are keen to get Iran to enter talks on curbing its uranium enrichment program, which the West suspects is aimed at developing a nuclear weapons capability but Tehran says is peaceful.
Western officials in particular are hoping the increasingly harsh sanctions they have imposed on the major oil producer in the last few months will make it more willing to compromise in the long-running nuclear row and help avert the threat of war in the Middle East.
Iran has so far shown no sign of backing down over nuclear development, which it sees as its inalienable right. But it now seems ready to hold talks with the United States, Russia, France, Germany, Britain and China - a group known as the P5+1 as it comprises all five members of the U.N. Security Council plus Germany.
Brussels- and Vienna-based diplomats also said April 13 was the likely date for a meeting, but the location remains unclear.
"Talks regarding the venue are under way," Salehi was quoted as saying by the Iranian Students' News Agency.
"Turkey has announced its willingness to host the talks between Iran and major powers, and it seems that P5+1 has welcomed it. This suggestion has also been given to Iran and we are considering it."
The last meeting between Iran and the representatives of the U.N. Security Council nations and Germany, held in Istanbul in January 2011, failed to even agree on an agenda.
Erdogan, who held talks on Iran with U.S. President Barack Obama on Sunday in South Korea, was quoted by the official Iranian news agency IRNA as saying Turkey had proposed hosting talks in Istanbul.
"I had consultations in South Korea with Iran's counterpart in the talks," Erdogan said, according to IRNA. "And we are awaiting results of these consultations and their views. Our intention is to help the process of these talks."
SERIOUS DIALOGUE?
Since January last year Washington and the European Union have imposed new punitive measures on Iran. Relations with the EU hit new lows when it announced an embargo on Iranian oil and Britain closed its Tehran embassy after it was ransacked by protesters.
Western diplomats said it is hard to be optimistic given Iran's track record, but analysts say the negotiations could provide a breathing space for all sides over the possibility of an immediate Israeli attack on Iran.
"It will be difficult for the Israelis to attack Iran while there are nuclear talks ongoing," said Gala Riani, an analyst at London-based risk consultancy Control Risks.
"It is in everyone's interest at the moment to at least get some talks under way, even if there is a realization that talks cannot hope to achieve much in the form of a meaningful breakthrough."
Senior fellow Greg Thielmann of the Washington-based Arms Control Association said he was cautiously optimistic ahead of the talks, saying the powers had now greater leverage over Iran.
"Iran's economic situation is increasingly problematic. While rising oil prices may allow it to muddle through, U.N. Security Council sanctions and increasingly severe unilateral sanctions are taking a toll," Thielmann said.
Israel and the United States have threatened military action if Iran fails to abandon its uranium-enrichment activities. But on Tuesday an Israeli official played down the prospect of an imminent attack on Iran, saying Iran's atomic program could still be hampered through sanctions and sabotage.
EU foreign policy chief Catherine Ashton is expected once again to lead the talks on behalf of the six powers.
Earlier this month the group called on Iran "to enter, without pre-conditions, into a sustained process of serious dialogue, which will produce concrete results."
Tehran says it has the right to pursue a peaceful nuclear program under the nuclear Non-Proliferation Treaty and has refused to suspend uranium enrichment, which can have both civilian and military purposes.
"According to Islamic law, we do not have a program other than our peaceful use of nuclear technology," IRNA quoted Iranian Vice President Mohmmad Reza Rahimi as saying in a joint press conference with Erdogan. "The West wants to keep a monopoly of nuclear technology to itself," Rahimi said.
REUTERS