Miss Ghana USA 2008- Krystle Simpson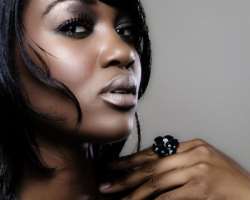 My name is Krystle Simpson and 20 years old. I currently reside in Germantown, Maryland where I attend Montgomery College. I am majoring in Pre - Medicine with the ambition of becoming a physician in the future. I take education very seriously because it is one of the keys to achieving a successful life. This is one of the many teachings my mother preached to me all my life. Since my earlier years I've had a keen interest in basketball, and from middle school through to college I've had the pleasure of being on my school's basketball team. I was selected as captain of my team in my second year in college. In addition to learning how to be a team player, this added role taught me the importance and principles of being a leader and role model to my teammates. Along side my education, I am also actively pursuing a career in the modeling industry, which has been a passion and dream of mine since I can remember.
I am very family-oriented and feel family is an important aspect in molding one's unique characteristics and personality. Family teaches one about values, morals and other elements that play a strong role in sculpting a prosperous life. I am very proud and fortunate to have been raised in a disciplined and loving environment where I've been taught faith, culture, fairness, honesty and respect for others and myself. My mother has had an enormous impact in my life as a strong African woman. She's accomplished extraordinary feats from surviving unbeatable odd she faced in Ghana to becoming a single parent after moving to the United States. Her strength and courage aided her in moving to the United States in search of a better life for her children but also transformed successful independent woman. This has been a true inspiration to me. As a single parent she is raising two college students by herself, owns four homes and runs a home management and catering business, which I assist her with faithfully. The successes of my mother have helped me appreciate and know what real hard work and commitment is and how no matter the odds anyone can make it. I know all of dreams are capable of fulfillment from the life example of my mother.
I am a strong supporter of the women in Africa. I believe they have the potential of holding high-ranking positions in businesses and government and can provide the leadership and direction the people of Africa need. Women in Africa are natural born leaders. From the onset at a very young age most of them are given many responsibilities, which they are able to manage and complete successfully day in and day out. Many women in Africa are highly educated and intelligent and can bring forth different perceptions, views and concepts to contribute in business cooperation's and in government. Being a believer of democracy which practices equity and having seen the major advancements women in the United States have made, I feel it is a woman's right to participate in and have an impression on business and government priorities, policies and practices. Ghana has an important presidential election this year and I believe their citizens as well as all African citizens of their various countries whether it be men, women, poor or rich, should be apart of their country's presidential election process and other high ranking positions of office. Everyone should exercise there right to vote for whoever they feel will best express their personal concerns and views in office.
As Miss Ghana USA 2008, I will use all my energy and knowledge I have attained in the United States as well as the life principles I learnt from my mother to help my brothers and sisters in Africa. I will help inform and educate them about disease control, prevention and proper health practices to minimize the spread of HIV/AIDS and other STD's, as well as other life threatening diseases such as Malaria. I also want to contribute in activities to help poverty stricken children, orphans, and young adults in Ghana. This will go long way in providing hope to these people. I also want to be a role model to aspiring models in Ghana and show them that their dreams too can come true.
I am a down to earth and ambitious young woman. I come from humble beginnings and I'm very fortunate and proud to represent Ghana in the Miss Africa USA Pageant. I know with faith in God and hard work anything is possible and my dream to become Miss Africa USA 2008 can be realized.
Stats
Height: 5'11"
Weight: 125 lbs
Age: 20
Hometown : Secondi-Takoradi
The Link to My Biography is http://www.missafricaunitedstates.com/delegates2008/ghana.htm
The homepage for Miss Africa USA Pageant is http://www.missafricaunitedstates.com/home.htm