Jonathan Condemns Coup In Mali, Calls For Return To Democracy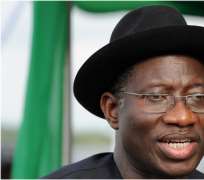 Nigeria's President Goodluck Jonathan has decried the overthrow of a democratically elected government in Mali by the country's rebel soldiers and called for the immediate reinstatement of the government of President Amadou Toumani Toure.
Jonathan, who expressed displeasure and dismay over the action of the renegade troops, described the move as 'an apparent setback to the consolidation of democracy in Mali in particular and the African continent in general.'
He asserted that the Nigerian Government would not recognize the unconstitutional regime, and urged governments in the Economic Community of West African States (ECOWAS), the African Union (AU) and the United Nations (UN) to roundly condemn the obvious coup d'état in Bamako.
In a statement issued Thursday by Rueben Abati, Special Adviser on Media and Publicity, the President advised the coup plotters to allow the on-going democratic process in the country to run its full course and not to do anything that would truncate the electoral process especially the presidential election slated for next month.
President Jonathan also cautioned against the shedding of innocent blood and unnecessary destruction of property of the citizens and foreigners resident in Mali, stressing that the coup plotters have only embarked on a fruitless mission of supplanting a constitutional government by other means, which goes against the current global train of constitutionalism.