Promote hand washing with soap among our children, parents urged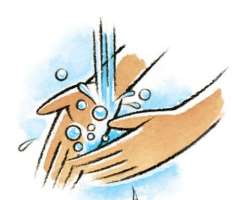 As part of the first ever Global Hand Washing Day, the Community, Water and Sanitation Agency, has organised a workshop for pupils in the Accra metropolis, to educate and teach them on the importance of washing hands.
Mrs. Theodora Adomako Adjei, a worker at the Community Water and Sanitation Agency and Coordinator of the program, said about 50% of common diseases like diarrhoea and respiratory diseases, which are fatal, could be prevented, if washing of hands with soap, was taken seriously.
"Turning hand washing with soap before eating, and after visiting the toilet, into an ingrained habit, could save more lives than a single vaccine or medical intervention," she noted.
She further added that washing of hands with soap, was among the most effective and inexpensive ways to prevent diarrhoea and pneumonia, but very few washed their hands with soap at critical moments, like after visiting the toilet, and this she noted, would pose a threat to lives if habits like the washing of hands with soap, were not adopted.
"Hand washing with soap works by interrupting the transmission of diseases," she said. Mrs. Adomako Adjei noted that available statistics showed that about 3.5 million children die every year, through contracting of various bacteria by the hands.
While stressing on the habits of Ghanaians, she said Ghanaians should refrain from the habit of using soaps for washing their hands after eating, with the intention of taking away smells, but rather turn to washing of hands with soap before eating, which would help kill germs which would have been harmful to the health.
She further entreated teachers, to provide water and the needed toiletries, which would provide children with good healthcare to save lives, since they were the future of the country.
Mrs. Adomako Adjei entreated stakeholders also, to assist in the hand washing education, since it is cost-effective, as compared to other frequently funded health interventions, this she emphasised that would maximise the health benefits investments in water supply, and sanitation infrastructure, and reduce risks families go through, when they do not have basic sanitation and water supply.