Court Slaps N4b Compensation On Shell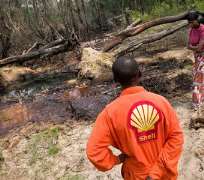 IMO, March 19, (THEWILL) - Fifteen years on, Shell Petroleum Development Company of Nigeria Limited (SPDC) will cough up a N4billion compensation for damages caused by an oil spillage that destroyed streams, farms and forests in five communities in Imo State, according to a judgement delivered on Monday by Justice Gladys Olotu of a Federal High Court sitting in Port Harcourt, Rivers State.
The spill, which ran through Umudike, Alimiri Umudike, Ekpe Agah, Ukpazizi Ekpe Mbede and Etekuru communities in Imo State, occurred on April 29, 1997, after Shell's pipeline ruptured along the Egbema-Assa delivery line, polluting natural bodies and degrading the environment.
Through their counsel, Lucius Nwosu (SAN), Sylvester Onyema Esiegwu and 11 other community men had championed the interests of the communities in the suit, demanding N5,408,000.000 as special damages, after assessments were conducted by their chartered valuation surveyors.
Although N900 million ex-gratia was made by Shell to the communities and the final settlement for the oil spill had been made, Justice Olotu held that the course of justice would not be served if she agreed with Shell's position based on the earlier agreement.
She argued that ex-gratia is a favour and not a right, and as such could not stop the rights of victims of the spill to claim adequate compensation. She explained that the N4 billion would be for the indirect economic losses and negative environmental impact the communities had suffered, including loss of objects of reverence, totems, historical landmarks, air quality and associated fear and forced refugee status.
Although the report of experts had proven that the spillage was spawned by external corrosion on the pipeline buried seven metres deep, SPDC, during the trial, hinged it on sabotage.