ACTRESS RUTH OBI SET TO WED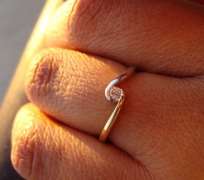 The wave of marriage sweeping across Nollywood would soon stop at the door step of fast-rising actress,Ruth Obi as news of her marriage to Spain based Nigeria Big Boy,Onyeka,is in the air.
According to what we gathered,the Anambra State born businessman,Onyeka who has been in a relationship with the dark complexioned,pretty actress for a year now,proposed to the actress when he visited Nigeria in December,last year.
The love birds have commenced their journey into matrimony with an engagement party and a low key Traditional Introduction Ceremony.
The couple we gathered are so much In love as despite the fact that Onyeka is not based in Nigeria,he is said to be constantly spoiling the actress silly with gifts and money.
On Feb 14th,which was also the actress birthday,he bought her a Hyundai ride.
Presently,the couple have picked June 30th as their wedding date and preparations are in top gear to make the event a grand one.
The Aso-Ebi are already on sold,though to just their friends,as its going to be strictly on invitation.
Previously married Onyeka we gathered ended his marriage with his ex-wife,Chinasa about 2 years ago,over irreconcilable issues.