PDP SENATORS DARE GOVS, BACK JONATHAN ON NEC MEMBERSHIP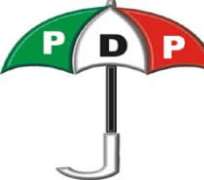 Senators elected on the platform of the ruling Peoples Democratic Party (PDP) yesterday threw their weight behind President Goodluck Jonathan on membership of the party's National Executive Committee (NEC).
Almost two years after the idea was first mooted in the National Assembly, lawmakers are inching closer to achieving that aim in 2012.
Earlier reports indicated that PDP governors were opposed to the idea of increasing the party's NEC membership to 72, so as to accommodate its members in the National Assembly.
They reportedly scuttled the idea shortly before the April 2011 polls.
The Presidency, it is believed, is behind the move to allow a Senator and a House of Representatives member to be members of PDP's NEC.
Yesterday, the Senate PDP caucus met and resolved that it is in support of the proposed move to allow PDP lawmakers assume NEC membership.
Senate Leader, Victor Ndoma-Egba (SAN) who briefed newsmen at the end of the meeting allayed fears of plans to whittle down the power wielded by the governors in the party. He also said that both parties are members of the same party, adding that Senate is ready to pass the 2012 budget next week. His words: 'Very important issues are going on within the party now. The ward congresses started last week and we are going to have the local government and state congresses and the national convention, all within this month of March.
'So, it is important for us to review the role of the Senate caucus in all of these activities and we have agreed that especially for the national convention coming up on March 21, we will be consulting with the PDP caucus in the House of Representatives on the way forward. 'The issue of National Assembly representation in NEC has been an issue that is as old as this democracy. The matter came up at the last National Executive Committee (NEC) meeting. We couldn't resolve at that level, the president set up a smaller committee. Discussions are still on. We are hoping to meet on the 14th ahead of NEC meeting.
'I want to believe that by that time, we would have been able to reach some understanding among ourselves on the level of representation. We believe that every state should have a Senator and a member of the House of Representatives in NEC. 'This understanding is to enable us effect amendment to the Party constitution. We don't see ourselves as members of National Assembly against the governors. We are all members of the same party. We want to ensure that every stakeholder is given an opportunity so to say.
'It is not a contest between the Governors and the Senate. I say this because when I came to this senate in 2003, there was no governor but in 2007, you have a number of governors, by 2011, their number in the Senate has increased. The Senate is beginning to look like a destination for governors. So it means there is little different between us and them.'