An African Woman of Substance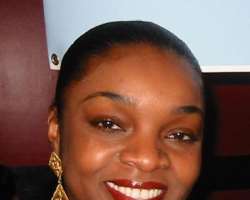 Linord Rachel Moudou, host of VOA's Healthy Living is not just a health advocate but a remarkable promoter of Africa.
Linord Rachel Moudou is well-known as the outstanding host of Healthy Living on Voice of Africa (VOA). However beyond this, she has had a diverse career in communication, with over a decade of experience ranging from broadcast and print journalism to Public Relations. She is also an astute businesswoman and a dedicated promoter of African culture and pan-Africanism across the globe.
Born and raised in Côte d'Ivoire, Linord moved to the United States to study International Journalism. During this period, she acquired practical broadcast training as a producer and host by volunteering at local television and radio stations in Washington DC including WPFW radio, DCTV, and Montgomery County TV. She received a Bachelor of Arts in Journalism and Media production from George Mason University, and a Certificate in Television and Radio Broadcast from Columbia School of Broadcasting. She is fluent in French and English, and conversational in Spanish and Creole.
Prior to hosting Healthy Living, Linord worked as an independent broadcast and print journalist, traveling between Africa, Europe and the United States. She produced and hosted a cultural program showcasing African people and events for TEL-SUD, a Paris-based station that broadcasts via satellite in Africa, Europe and the Caribbean. She was an Associate Producer for VOA Africa Journal between 1999 and 2000. Later in 2000, she created, produced, and hosted "Spotlight on Africa", a bilingual program on Public Access Television and New World Radio for four years. The show was dedicated to educating, informing, entertaining and promoting African culture in the U.S.A.
Linord's also has some experience in print including Africa Journal, a Corporate Council on Africa publication, and AMINA Magazine, a Paris-based magazine about women of Africa and the Diaspora. Through her work she has interviewed various newsmakers, artists and political figures including President Amani Toumani Toure, Joaquim Chissano, Ellen Johnson-Sirleaf, President Laurent Gbagbo, Congressman William Jefferson, Ambassador Andrew Young, Shaggy, Danny Glover, Les Nubians, Youssou Ndour, and designer Alphadi and many others.
As a businesswoman, Linord is the Founder and President of LIRAM Inc., a communication company that provides television productions and Public Relation services. She is also the Founder and President of RACINES Heritage, a non-profit organization that serves as a link between Africa and the Diaspora by promoting education, cultural exchanges and community service.
Linord has successfully established herself internationally as a face and voice for Africa. She has hosted many events in the United States, Europe and Africa, including the Kora All Africa Music Awards in South Africa, an indication of the fact that mother Africa appreciates her good work. More grease to your elbows Linord!