ACN Reps Oppose Jonathan's $7.9B Loan Application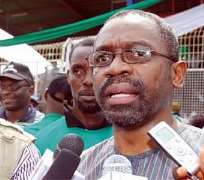 ABUJA, February 23, (THEWILL) - The Action Congress of Nigeria (ACN) caucus in the House of Representatives yesterday kicked against the increased borrowing by the President Goodluck Jonathan administration saying it may mortgage the future generation of Nigerians.
President Jonathan had made a fresh request to the National Assembly to enable him borrow additional $7.9 billion to finance some pipeline projects.
Leader of ACN. Hon. Femi Gbajabiamilah who gave the warning at a press briefing said with the present development, Nigeria may be indebted to the tune of N6 trillion by the end of the 2012.
He said the caucus was opposed to the $7.9 billion loan by the federal government to address some pipeline projects, which was never part of the 2012 to 2015 medium term expenditure framework.
According to him, "this figure translates to approximately N1 trillion naira. Our current debt profile stands at about $6 billion.
"When you add another $7.9 billion we are talking of almost $14 billion which take us to the Obasanjo days. This is outside the domestic debt profile. By the time we slap another N5 trillion, the country will be indebted to the tune of approximately N6 trillion"
The minority leader lamented that this year alone, N560 billion has been set aside for the repayment of debt with only N1.3 trillion going for capital projects in a budget of over N4 trillion.
He submitted that, "it is time to put a debt ceiling legislation in place to avoid a spend thrift government throwing the nation into the kind of debt that we may never be able to get out of and that would leave future generations of Nigerians with a negative balance sheet."
"As a caucus, we will be opposing this particular loan application and will encourage our colleagues on the other side of the aisle to do same."